OVER 100,000 PEOPLE ATTEND TEL AVIV'S PRIDE PARADE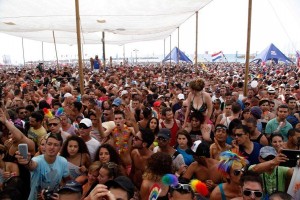 Photo: Nir Keidar
On 7th June, a record-breaking 100,000 people from Israel and worldwide took part in the annual Tel Aviv Gay Pride Parade transforming the city into a colourful street party,  highlighted with a week of Gay Pride activities.
The festivities began at Gan Meir Park in central Tel Aviv and included music performances, various stalls and welcome speeches from Ron Huldai the Mayor of Tel Aviv and several government ministers.
Thousands of flag-waving supporters then lined the streets for the parade, which featured a long procession of floats carrying DJs from local gay clubs and ended with a beach party at Gordon Beach hosted by Israeli supermodel Bar Refaeli.
Following their wedding ceremony, the first gay couple to marry in France also went Tel Aviv for their honeymoon. Vincent Autin and his partner Bruno Boileau said: "France has voted for the law of love. For us it's very important to be a bridge, especially here in the Middle East, so that what's happened in France, and the way we are received and embraced here, can become an example for the rest of the Middle East."
Mayor Ron Huidai made a speech saying he was "proud that Tel Aviv is the most gay-friendly city in the world."
Named Best Gay City in a survey by GayCities in 2011, Tel Aviv is known for its liberal atmosphere, nightlife and urban beaches and this year's parade marks 20 years since the gay community first launched activities in the city.
The 2014 Tel Aviv Gay Pride Parade will take place on 13 June 2014, with the events for Gay Pride Week taking place from 8-14 June 2014.
For more information about Israel, please visit www.thinkisrael.com