Cricketers show their support to persons living with HIV
Players from England and South Africa took time out of their busy schedules this week during the ICC Champions Trophy 2013 to visit organisations in England and Wales and to show solidarity with persons living with HIV.
England players James Tredwell, Ravi Bopara and Jos Buttler visited Terrence Higgins Trust and The Food Chain in London on Tuesday, while South Africa's JP Duminy, David Miller, Aaron Phangiso, Farhaan Behardien and assistant coach Russell Domingo visited Terrence Higgins Trust's offices in Cardiff today.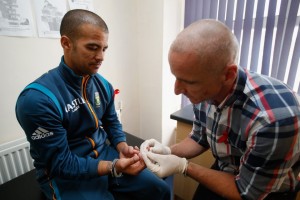 During both visits, players elected to have rapid HIV tests to help raise awareness for the service that the Trust offers, with Tredwell taking his test in London and Duminy and Miller doing theirs in Cardiff. Terrence Higgins Trust is the UK's largest HIV and sexual health charity and offers a wide range of services, including the rapid HIV test.
In Cardiff, the South African players met persons living with HIV in Wales and learned about the stigma that they experience in their everyday life within their communities.
Commenting on the visit today, the 24-year-old Miller said: "I took the rapid HIV test today to help raise awareness and also learn more for myself about my status. Being part of the Proteas squad visiting Terrence Higgins Trust in Cardiff today, with some media accompanying us, hopefully we've managed to raise awareness of HIV and how easy it is to get tested.
"As group we spoke a lot and learnt about what to do and what not to do and ultimately to be loving and supporting to persons living with HIV. I was very surprised to hear how much persons living with HIV in Wales are suffering with stigma, we in South Africa have a similar issue but it is improving. Today has been a real eye-opener and reality check for all of us."
Duminy added after he had done his rapid HIV test: "I think it's important for all of us to know our status, going forward you might meet different people in your life that you are sexually active with and I think it's important for them to know their status as well. I think it does put your mind at ease if you do take the test, so I definitely recommend it.
"It was very interesting today, just to sit and hear what these people go through on a day to day basis and all the discrimination that they face, the stigma that is shown against HIV and AIDS is pretty dreadful.
"I guess us being here is creating some awareness around the stigma of HIV and AIDS is not that bad, you're not, for example, going to get the virus by swimming in a pool next to someone, understanding that is really important."
At the London visit the England players had the opportunity to meet persons living with HIV and get the facts that surround the disease, and learned how to protect themselves and others whether seropositive or negative.
The cricketers also spent time visiting The Food Chain kitchen where meals are prepared every week by volunteers for people living with HIV in London who are struggling to access the food they need to stay well. The players were treated to some healthy snacks and learned more about the importance of good nutrition for people living with HIV from the charity who also provide dietetic advice, recipes and cookery classes.
Finally, the players in London also visited THT Direct, Terrence Higgins Trust's telephone support centre which Bopara found particularly interesting: "It was a good learning experience to visit Terrence Higgins Trust and The Food Chain as part of the ICC THINK WISE initiative, especially talking to the team at THT Direct who deal with all sorts of phone calls about HIV including calls from persons living with HIV or people who want to know their status or who are having problems in the work place because of their status. They help them get the facts, which is what this is all about."
To find out more visit www.icc-cricket.com