Bradley Manning: Whistle-blowing human rights hero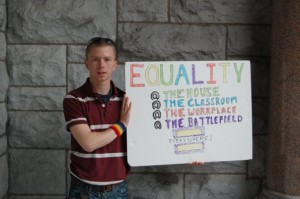 This is the second week of the trial of US military whistle-blower, humanist and LGBT rights activist, Private Bradley Manning. He is on trial for passing to Wikileaks files that exposed the truth about US war crimes in Iraq – including this massacre: www.collateralmurder.com
For exposing these crimes, Bradley faces 21 charges – including "aiding the enemy" – which carries the death penalty; although US prosecutors are only asking for life imprisonment without parole. Other charges add up to a maximum sentence of more than 150 years behind bars. Bradley faces the possibility of spending the rest of his life in jail.
Peter Tatchell, Director of the human rights organisation, the Peter Tatchell Foundation said: "The charge that Bradley aided the enemy is absurd. He didn't give the files to enemy agents or military operatives. He gave them to Wikileaks, motivated by a desire to expose wrong-doing by the US government and military. There is no evidence that his actions harmed anyone."
"It is outrageous that Bradley is not allowed to give evidence of his honourable motives during his trial – only after the verdict has been delivered and prior to sentencing. It is also shameful that parts of his trial will be held in secret with secret witnesses concerning leaked documents that are now public.
"Bradley Manning is a true patriot, not a traitor. He reveres the founding ideals of the US: an open, honest government, accountable to the people, which pursues its policies by lawful means and respects human rights.
"Bradley is a hero who has attempted to uphold international human rights law against those who have violated the laws of war. He is on trial for exposing the killing of civilians, while the US soldiers who did the killing, and those who covered up their war crimes, have never been prosecuted.
"At great personal risk, Manning sought to expose grave crimes that were perpetrated and then hidden by the US government and military. These are the characteristics of a man of conscience, motivated by idealism and altruism. There is no evidence that his leaks harmed anyone. He caused the US authorities huge public embarrassment, that's all. That's why he is on trial.
"Bradley is a LGBT campaigner. He has participated in LGBT Pride marches and he campaigned against the homophobic US military policy, 'Don't ask, don't tell'. In 2008, he attended a rally in New York to oppose attempts to ban same-sex marriage in California," said Mr Tatchell.
 Statement by the Bradley Manning Support Network:
"On the first day of the trial the defense and prosecution faced off with opening statements that both asked "what would you do" if you were given access to evidence of the true nature of the war, civilian murders, illegal torture, unnecessary secrecy and thousands of documents revealing government corruption? What would you do if your reports to superiors were ignored, and if you learned that the American people had been lied to?
"In his opening arguments defense lawyer David Coombs highlighted that Bradley Manning is not your typical soldier – rather he is a conscientious soldier who cared more than most about people, fellow soldiers and Iraqi civilians alike. Bradley Manning, he explained, is a 'Humanist,' who prior to deploying to Iraq had that printed on his dog tags as his religious preference. For Bradley Manning the horrors of civilian and his fellow soldier's deaths were troubling and transforming: it inspired him to learn the truth about the war, a war that we now know, thanks in part to Bradley and the whistleblower website WikiLeaks, has been based on lies."
Six things you can do to support Bradley Manning
1. Write to Bradley Manning: Commander, HHC USAG,    Attn: PFC Bradley Manning, 239 Sheridan Ave, Bldg 417, JBM-HH, VA 2221, USA. Advice on letter conditions:  http://bit.ly/uJ2eG9
2. Sign the petition in support of Bradley Manning: www.bradleymanning.org
3. Tweet this message:
   #BradleyManning blew the whistle on US war crimes. Hero! Free him. Sign the petition: http://bit.ly/gXjaBz @SaveBradley #ThankManning

4. Write to President Obama, The White House, 1600 Pennsylvania Avenue NW, Washington DC 20500, USA
5. Ask your MP and MEPs to urge the US government to drop all charges and release Bradley. You can email your MP and MEPs direct via this website: www.writetothem.com
6. Write or phone the US Embassy in London – 24 Grosvenor Square, London W1A 1AE – 0207 499 9000