Some Klingons Are Gay. Get Over It!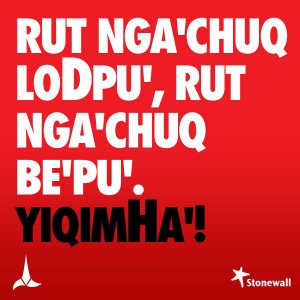 Stonewall's iconic campaign goes intergalactic
Stonewall's iconic 'Some People Are Gay. Get Over It!' campaign is now in its sixth year and is set to reach a new milestone. The charity's famous posters have appeared across Britain on buses and billboards, and have been seen in countries worldwide as part of the charity's international campaign against state-sponsored homophobia. Now the charity is boldly going where no charity has gone before, by translating the campaign into Klingon.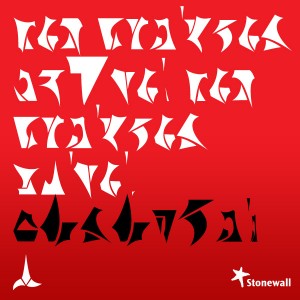 The Klingon 'Some People Are Gay. Get Over It!' poster – which reads 'Rut nga'chuq loDpu', rut nga'chuq be'pu'. YiqimHa'!' in Earth text and is also available in Klingon language text – has been released online to coincide with the UK release of Star Trek: Into Darkness, the latest film in the long-running sci-fi series. Stonewall hopes lesbian, gay and bisexual Star Trek fans will use the imagery on social media to celebrate the new film and to raise awareness of Stonewall's campaign for equality. The images are available for download from Stonewall's Facebook page at www.facebook.com/stonewalluk
Stonewall Deputy Chief Executive Ruth Hunt said: 'Klingons may be renowned for their determination to fall out with people but, as Spock would say, even gay Klingons should be able to live long and prosper.'
Stonewall's Klingon 'Some People Are Gay. Get Over It!' posters mark the tenth language into which the campaign has been translated in support of Stonewall's campaign for gay equality worldwide, and as a modern foreign language resource for schools. Others include Russian, Chinese, Welsh and Hebrew, all of which are available online at www.stonewall.org.uk/international.