Father's Day Card for Gay Dads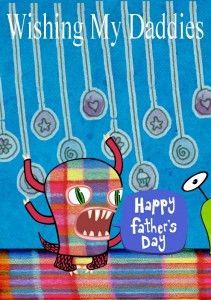 Recently launched gay and lesbian greeting card company,
Pride To Be, has unveiled its contribution to Father's Day

a card for 'Daddies'.

Featuring a delightful little monster, the unique card offers friends and families of gay dads the opportunity to buy a quality card which truly represents their family make-up.
Co-Founder and Director, Lorraine Donnelly, comments: "Since our launch, we've been inundated with positive comments as well as suggestions for our new range. A Father's Day greeting card was requested many times, so we are delighted to finally be unveiling it.
"We believe this card for gay dads will put a big smile on the faces of those who open it on Sunday 16 June!"
The Father's Day card is one of 10 cards to be launched this month by Pride To Be, which was founded by married lesbian couple, Lorraine and Sara Donnelly in March 2013.
Based in Wigan, Pride To Be now features 20 stunning greeting cards including Mr & Mr and Mrs & Mrs wedding cards, Boyfriend-Boyfriend birthday cards, and Wife-Wife anniversary cards, all priced at £3.49 including postage.
For further information, please visit www.pridetobe.co.uk