Community fundraiser makes £65,000 to tackle anti-gay bullying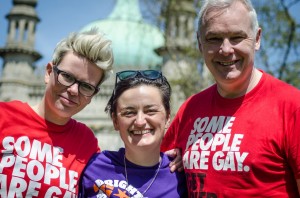 Photo: Lynda Bowyer
Over 800 Stonewall supporters recently took to the streets of Brighton for the charity's tenth annual Equality Walk. The annual fundraiser – supported by American Express and Square Peg Media – made over £65,000. Stonewall will use the funds to support its new DVD film for primary schools, FREE, which will help strengthen the charity's campaign against homophobic bullying.
Zoe Lyons hosted this year's walk and was joined for a picnic in the Royal Pavilion Gardens by hundreds of families and fundraising teams. MPs John Bercow, Caroline Lucas and Simon Kirby, and the Mayor of Brighton & Hove Bill Randall, also attended the 10k walk, which ended at sea-front bar Coalition. There Zoe congratulated the top fundraising team (PwC, who made nearly £2,700) and the best individual fundraiser, Jason Sloan, who made over £1,000 and won a weekend in Paris courtesy of American Express.
Stonewall Head of Education Wes Streeting said: 'We're truly bowled over by how hard our 800 walkers worked to raise such a huge sum for our anti-bullying work. While we all enjoyed the sunshine, we always keep in mind the fact that over half of gay young people in Britain face a gloomy nightmare of homophobic bullying at school. Every penny raised this weekend will help us make sure those young people can look forward to better days.'
Stonewall's new DVD for primary schools, FREE, will help teachers tackle homophobia, which is one of the most common causes of bullying in primary schools. The film follows the success of the charity's popular secondary school film FIT, which was distributed to every secondary school in Britain. Playwright Rikki Beadle-Blair produced FIT and has returned to work on Free, which is currently in production and will be released later this year.