Travel – Go Gay In Gothenburg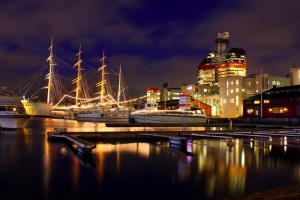 The charmingly different Swedish city of Gothenburg offers a welcoming world of options for lesbian and gay city-breakers.
Gothenburg, Sweden's second largest city, is located on the west coast of the country and is home to 'West Pride' LGBT festival from 20th May to 2nd June 2013. The city also plays host to popular music festival 'Way Out West', featuring top international and local artists including Azelia Banks, Grimes, Bat for Lashes and Neil Young & Crazy Horse amongst many others.
From a lesbian and gay standpoint, West Pride, albeit more intimate that its cousin in the capital, is unique that it is based around culture, highlighting the lives of LGBTs in the region in an artistic and cultural context. West Pride aims to create visibility to diversity in expression. Founded in 2007, the event has been growing from strength to strength and culminates in a parade and celebration on its closing Sunday, this year on the 2nd June. West Pride are also holding drop-in-gay-weddings on Saturday 1st June, couples can arrive without registering and be wedded at the festival. The long weekend proceedings are a fantastic time for LGBT people to visit the city.
Gothenburg is set in a truly beautiful landscape, the west-coast archipelago – a hidden gem, very easily reached by a 30-minute tram ride from the city centre. This offers something for those city-breakers who want to experience both urban chic and breathtaking rural beauty in one splendid city – and there's even more for those looking for a versatile, extended holiday.
The city itself offers an array of activities, from fashion, arts and culture and some lip-smackingly amazing food (Gothenburg was appointed the 'Culinary Capital of Sweden' 2012), to a vibrant gay and lesbian scene, including "Sweden's best gay club" 'Gossip', voted by the country's own QX magazine. It's youthful, creative population (Gothenburg is home to the country's largest university) are open-minded, welcoming, easy-going and genuinely natured. Gothenburg is the new hive of the creative arts with its upstart indie bands, home grown fashion-labels and alternative arts scene. All this for amazing value, as Lonely Planet recently billed Gothenburg as one of it's top 10 for good value.
Some key city highlights for 2013:
PARTY
BEE KÖK & BAR
The gay 'headquarters' of the city
EAT
BHOGA
An innovative restaurant run by Gustav Knutsson and Niclas Yngvesson, opened just a year ago and has already gained several awards, praised in the prestigious "World's 50 best restaurants".
SJöMAGASINET
Newly awarded Michelin star restaurant by Ulf Wagner and Gustav Trägårdh making it the 5th restaurant in the city to have Michelin stars.
SEE
'Secret Love' a Chinese art exhibition will be opened during the West Pride celebration at the Varldskuturmuseerna.
SHOP
Check out Vallgatan and its independent outlet-lined streets, best for fashion and homewares, where you'll find the flagship store for home-grown brand NUDIE JEANS.
SLEEP
SCANDIC RUBINEN
A high-gloss, gay-friendly hotel with an international atmosphere located in the middle of Gothenburg´s main street, Avenyn.
FLIGHTS
From 13 May 2013, bmi regional, the UK's most punctual airline will commence a new service between Birmingham international and Gothenburg with flights operating from Sunday to Friday. Fares are available from just £59 one way!
FOR MORE ON SWEDEN
Gothenburg, like all our Swedish cities are a fantastic destination, regardless of whether you're gay, straight or like penguins (no, not in that way!). For more about our welcoming cities, visit www.visitsweden.com     www.goteborg.com