Book – 'Toto, I Don't Think We're In Golders Green Anymore!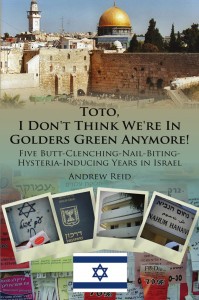 Andrew Reid's experiences tell a compelling cross-cultural story. As a powerful reflection on his youth, told with bold courage and honesty, his story still remains hugely relevant today.
'Toto, I Don't Think We're In Golders Green Anymore! Five Butt-Clenching-Nail-Biting-Hysteria-Inducing Years in Israel' depicts Reid's travels to Israel young man. After falling in love with a gay Israeli, the current laws would not have allowed them to stay together unless Reid formally converted to Judaism and emigrated under the country's 'Law of Return', which grants any Jew Israeli citizenship. While he had been contemplating this move for many years, his recent experiences in the country sealed his faith in the decision.
'Toto' tells this compelling tale of Reid's conversion, with dark humour and no-holds-barred.
"After dealing with the red tape put in place by the Minister of Interior, I finally settled into everyday Israel life. Readers will learn about every new experience I encountered; from the weekly shop, my trips to the beach and illuminating facts about the country's tiny gay scene," Reid explains.
Then, one day, it happened – call papers arrived for military service – a life-changing task which went so badly Reid was discharged and left with a soured image of his new country.
Years later, as a middle-aged man, the author travelled back to Israel to add closure to his experience. With a Tel Aviv now a sprawling city with a strong internationally-renowned gay scene, the core detriments of religious extremism, missile attacks and land grabs remained the same.
At its conclusion, Reid contrasts the two periods of his life; sad yet content that his youth is over and he is finally settled back on home soil.
"I spend a lot of time reflecting on my youth. Looking back, it is easy to see how vulnerable I was and how I used humour to deflect my true emotions. I'm pleased I had those experiences, but am grateful for my steady and fulfilled life back in England," says Reid.
The book is enjoying much success, with one reader saying, "A gay European man's quest to live in Israel as a Jew, a diary, a travelogue, quirky comments on culture, and a first-hand account of the turmoil in the Middle East, this book is delightful, long, but delightful. It doesn't get tedious or lose its charm, it should just be digested from time to time as a snack; I did it over a period of four months." Available now.