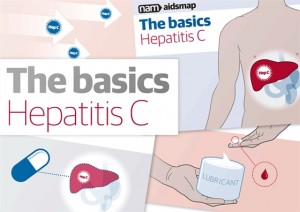 If you are familiar with NAM's patient information materials, hopefully you already know about our popular series The basics. These illustrated leaflets explain key health messages in a straightforward, accessible way and are designed to support conversations between professionals and the people living with HIV in their care.
Now we're delighted to announce the publication of four new titles in the series. These provide key information on hepatitis C, covering:
•    https://mag.bent.com/utah-singles/
•    Hepatitis C treatment
•    How hepatitis C is passed on
•    How hepatitis C is passed on during sex
Hepatitis is one of the most common co-infections affecting people with HIV. It is passed on in many of the same ways as HIV and can be the cause of serious health problems. But it is treatable, and at the moment, there's a lot of promising research in newer, better treatments for hepatitis C.
There isn't much easy-to-read information on hepatitis C for people with HIV. In particular, there's almost no clear and practical information about the sexual transmission of hepatitis C although it's an increasing concern for gay men with HIV. And making a decision about whether to start hepatitis C treatment now can be difficult, with a number of pros and cons to weigh up.
The leaflets aim to explain these topics, breaking down complex health information. Each title covers a few key facts and the simple language and pictures bring the information to life.
These resources are designed to support discussions between health professionals and people with HIV. If you're a healthcare worker, you may find these resources useful for patients or clients who do not have much prior understanding of HIV and hepatitis, whose first language is not English, who are less comfortable with written information, or who have lower literacy levels.
Or, as a professional or someone personally affected, you might just appreciate the simplicity and clarity of these leaflets.
Working together
We're very pleased to have worked in collaboration with The Hepatitis C Trust and the Co-infection Alliance to develop the new hepatitis C basics, helping us to make sure we're providing relevant, accurate information.
We're very grateful to a range of people who helped us develop these new leaflets. Staff and patients at the Royal Free Hospital, the Chelsea and Westminster Hospital, the Royal London Hospital, St Thomas' Hospital, the Royal Sussex County Hospital and the Terrence Higgins Trust were very generous with their time and gave us valuable feedback at various stages of the development.
And we'd also like to thank our funders – funding from Janssen, Kevin Ryan and Wandsworth Oasis made it possible for us to produce and print these new resources.
For more information
You can view or download the new hepatitis C basics, and all the other titles in The basics series, from our resources pages at free widower dating sites
These titles are available in print, so if you would like a print copy, do get in touch. If you work in a clinic or community organisation in the UK, you can also join our free booklet scheme.
Through the scheme you can order multiple copies of our booklets and basics. Contact us on 020 3242 0820 or info@nam.org.uk to find out more.
NAM has achieved certification with the Information Standard a quality mark scheme developed by the Department of Health. These leaflets were also given the Crystal Mark by the Plain English Campaign.
Do contact us if you have any questions about using The basics, if you would like to give us feedback on existing titles, suggestions for future titles, or if you would like to translate or adapt any of them.