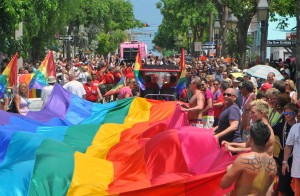 Visitors can celebrate equality, meet the creator of the rainbow flag that symbolises LGBT pride and mark the 10th "birthday" of a 1.25-mile sea-to-sea flag at Key West Pride 2013.
Set for Wednesday 5th June to Sunday 9th June, the festival salutes diversity on the subtropical island internationally known as a top gay and lesbian holiday spot.
Activities include daytime pool parties and late-night dance parties, on-the-water adventures ranging from snorkelling to kayaking, a film festival, three pageants and an exuberant community parade.
The festival's special guest and parade grand marshal is to be Gilbert Baker, who in 1978 created the original rainbow flag that became the international symbol of the LGBT community.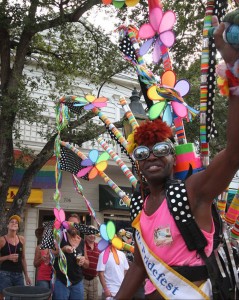 In 2003, to commemorate the original flag's 25th anniversary, Baker and a volunteer team constructed a 1.25-mile rainbow flag in Key West that is believed to be the world's longest. During Pride 2003, approximately 2,000 volunteers unfurled it along the entire length of the island's Duval Street from the Gulf of Mexico to the Atlantic Ocean in a sea-to-sea showing of openness and pride.
Since then, 100-foot sections of the sea-to-sea flag have been displayed at events and festivals around the United States and Europe. Several sections are being returned to Key West for the 10th anniversary.
Plans call for them to "star" alongside Baker in the 2013 Pride Parade on Duval Street, beginning at 5 pm on Sunday, 9 June. Spectators can view the all-welcome procession, also to feature walking groups and lavishly decorated floats, at parade-watching parties at leading clubs on Duval.
Other Pride 2013 events include a keynote presentation by Equality Florida's Executive Director Nadine Smith, an acclaimed trolley tour showcasing the island's LGBT heritage and hotspots, drag shows and themed late-night soirees at clubs and bars, a street fair followed by a block party and dancing on Duval, and pageants to select Mr., Ms. and Miss Key West Pride.
Event information: keywestpride.org, gaykeywestfl.com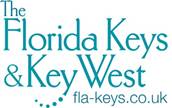 For further information on the Florida Keys & Key West, visit   www.fla-keys.co.uk