With all the current cuts to help and support services many charities and organisations have had to do a major re-think on how they can restructure their costs to survive. Here, GMFA, tell us what their hopes are for the future.
We just wanted to assure all of our supporters that we fully expect to be around to deliver some of the strongest, most radical HIV prevention work that there has been in years. By liquidating some of our assets, and streamlining our organisation, we will have enough funds to continue to provide our core activities, including our websites and FS magazine as well as delivering some radical new approaches in HIV prevention over the next couple of years. We hope that you will continue to support and be a part of the new GMFA.
FS magazine Issue 135 – Cheating Bastard!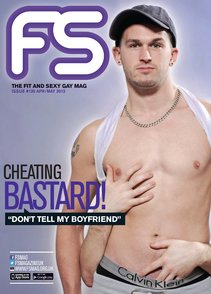 Cheating Bastard! Have you ever been cheated on? Have you ever cheated on somebody?
In this issue we investigate what makes people cheat plus we reveal our relationships survey with some surprising results.
Also in this issue:
•    Suicide – why has it become the number one killer of young gay men?
•    Kristian+Life
•    Opinion – Slut shaming
•    The Issue – Is it because we are gay…
•    Plus much much more.
Read online: issuu.com/gmfa/docs/fs135_pdf