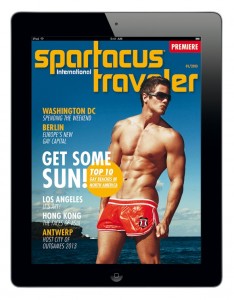 SPARTACUS TRAVELER INTERNATIONAL is the new travel magazine especially created for iPad and Android tablets. It is made for gay men within the United States but also reaches out to English speaking members of the gay community from all around the world.
The magazine combines new and innovative technologies for e-magazines such as interactive links, sliding photo galleries and embedded videos, as well as high quality editorial content to featured destinations, accommodations and travel gadgets for the LGBT market.
With over 1.7 million copies sold since 1981, SPARTACUS INTERNATIONAL GAY GUIDE is the most recognized publication related to gay travel. The winner of IGLTA's 2011 hall of fame award is already part of gay history when it was first published in April 1970 – just one year after the Stonewall riots in New York City.
After being launched in the spring of 2012, the new SPARTACUS iPhone App has been downloaded over 40.000 times already, 35 % of the purchases were made within North America.
Summer 2013 will see a re-launch of the iPhone App as well as an application for Android devices – including a free version which shows LGBT hot spots around the world.
Based on the well known gay travel brand SPARTACUS and Germanys longest established  and most successful travel magazine SPARTACUS TRAVELER the English e-magazine is made to inspire its readers with richly illustrated travel reports and news from all around the world.
As partner of Pocketmags.com the leading digital distributer for LGBT e-magazines (Attitude, GT Gay Times, DNA, Winq) SPARTACUS TRAVELER INTERNATIONAL will be available through all main e-shops – including iTunes and Google play.
The editorial team under the leadership of American journalist and LGBT travel expert Dan Allen (OUT & ABOUT, Passport, The OUT Traveler) together with Dirk Baumgartl, editor in chief of the German issue of SPARTACUS TRAVELER will provide unique content for the American LGBT community.
Frequency
4 issues per year – starting in June 2013
Price
2,99 US Dollar
7,99 US Dollar annual subscription (4 issues)
Distribution
iTunes
Android stores such as Google play
Pocketmags.com
www.spartacusworld.com
www.facebook.com/SpartacusGayGuide