"Gay Photographers Network announce their first photographic competition"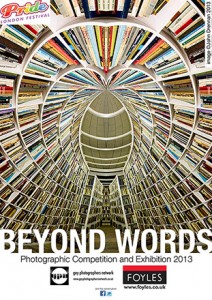 Beyond Words is a photographic competition and exhibition presented by the Beyond Words and Foyles Bookshop as part of London Pride 2013.
Its aim is to highlight the spectrum of talent to be found within the gay photographic community by inviting submissions interpreting a range of themes, from Literary London to Love and Marriage, with the short listed entries hosted in a FREE exhibition in the Gallery at Foyles' Charing Cross Road store during Pride.
Competition Closing Date: 30th April 2013
Exhibition Dates
Shortlist Exhibition: 29th June – 3rd August 2013
Café Exhibition: 12th July – 3rd August 2013
The competition is open to all (free entry to Gay Photographers Network members) and winners announced at the opening on 29th June at Foyles.
Prizes and judges to be announced.