'Preaching to the Perverted'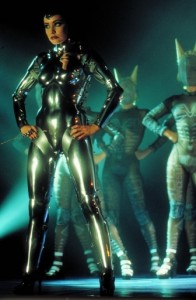 Fans invited to play a part in restoring cult British film
             'Preaching to the Perverted'
The first mainstream film set squarely on the fetish club scene, which became a cult success after being dropped by the BBC as too racy, is now launching a campaign to raise funds so that it can be digitally restored and revived for the Fifty Shades generation.
Written and directed by double Bafta-winner, Stuart Urban, this British romp was inspired by actual trials of kinksters and people practising consensual BDSM. It features Christien Anholt as an infiltrator who gathers evidence for an MP keen to crack the whip on smut, who falls in love with the domme played by lesbian icon Guinevere Turner, leader of the 'House of Thwax' 24/7 lifestylers. It also features well-loved British actors such as Keith Allen, Roger Lloyd Pack, Julie Graham, Ricky Tomlinson, Georgina Hale, Julian Wadham and Tom Bell.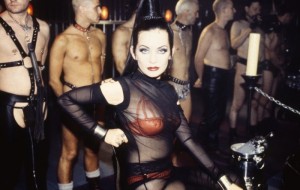 Filmed in a high camp style with a cast and crew often drawn from the fetish, BDSM and LGBT scenes, the film is a joyful portrayal of alternative sexuality that makes people laugh but also reflect on the way of the world and focuses on the importance of consent. The EL James 'Fifty Shades' trilogy has led to a resurgence of interest in this scene in the mainstream, so now that BDSM is no longer a four-letter word, the time is ripe for a revival of Preaching to the Perverted.
Interest in kinky topics has found 'Preaching to the Perverted' a new audience, but the technology used to make it has meant that a revival on Blu-ray and HD digital download requires extensive restoration work. In order to fund this, the production company today launches a campaign on crowd-funding website, Kickstarter to restore and remaster the 35mm original. They aim to raise £18,000 for the film to be preserved and reach a wider audience in HD.
Back in 1997 its release did lead to controversy, being the last film of the twentieth century to be banned in Ireland and even being cut for home video rating in the USA in 2003. The BBC had developed but then dumped the project for being un-showable – yet ended up screening it several times anyway! Not only the fetish scene, but LGBT, music and fashion press embraced the film and helped it become an enduring cult hit and additionally there have been tribute clubs or nights in several countries in the fetish and Goth scenes, and burlesque performers being named after the film, the clubs it features and its main characters.
The cast and director are reuniting for this appeal and are offering over £2,000 worth of rewards and prizes to get people active on social media to promote the campaign. Amongst the incentives offered to donors is 'dinner with a dominatrix' as well as opportunities to take part in events planned to celebrate the revival.
Tim Woodward of Skin Two magazine and a number of key scene people are also solidly behind the restoration project. Said Woodward: "This is the only really good film ever made that's set in the BDSM/fetish world. Every fetish person should see it". Rewards and prizes are coming from Jed Phoenix of London, Coffee Cake & Kink, Mistress Caramel, Mistress Velour, and many more without people necessarily having to contribute money to the campaign – though the minimum is only £1.
Director Stuart Urban said that; "unlike the studios, we indies don't have deep pockets to remaster our 35mm work, so crowd funding to our loyal fans represents the fresh and ideal way to save this film."
Some great rewards are on offer, and a strong start is vital to its 30 day campaign, so run, don't shuffle to:
To contribute: kck.st/Z777tx
www.preachingtotheperv.com
www.facebook.com/p2pmovie
Twitter: @preach2theperv