Five Reasons Manchester's Gay Village will Survive by Adam Lowe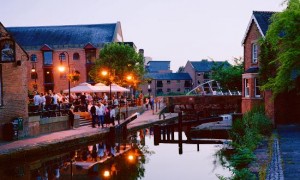 An outspoken Manchester councillor this month said he gives Manchester's iconic gay village five years of life. Here at Bent, we tend to disagree.
The gay village was, of course, made famous by the exploits of Stuart, Vince and Nathan in Queer as Folk. Since then, it's true, there has been an increase in the number of tourists and hen parties. But Manchester Pride is also one of the biggest and best gay festivals in the world, and besides clubbing there's a vibrant LGBT community that caters to the young (LGBT Youth North West), the post-middle aged (Out in the City), artists (Queer Contact, Queer as Fringe, Young Enigma, Manchester Pride Fringe), and many more besides.
But looking purely at the gay scene, then, here are just five of the many, many reasons we think the village is here to stay:
Taurus – Taurus offers decent food and drink at competitive prices, and runs the popular Canal-st.co.uk website and the Canal Street VIP card. But more importantly, Taurus also has an events space downstairs, which it hires out to community groups and artists. This is an important community space, where local people can attend book launches, plays and discussions.
Manto's also offers up its upstairs space for events and community groups, especially during Pride. Bars regularly raise money for local charities and support Manchester Pride.
Cruz 101 – We love clubbing as much as the next gay man. But where else can you find stunningly-attired drag queens such as Anna Phylactic every week at Aftershock? Where else can you chat politics, disco and divas by the sinks at 3am on a Saturday? Where else can you play daft games onstage on a Thursday night, with the chance to win prizes, the attention of hot boys, and even cash? Well, maybe there are other places, but none of them are as popular as Cruz.
The Thompson Arms – Miss Thunderpussy is more than enough reason to love Thompson's. With classic show tunes such as 'A&E', 'Poundland' and 'Nasty Queen', you're guaranteed an entertaining night. Plus the staff are always friendly, there are pool tables, and the outside smoking area has a shelter!
Company – Men in leather + an underground bar + camp music = plenty of laughs!
Bollox – Our favourite cross-dressing, alt-queer club kids take over Alter Ego once a month for super-cool night Bollox. Melding indie, wonky pop, disco and club classics with such wacky entertainment as Madonna Aid, you'll never be bored here. (Just remember to dress up!)
Photo courtesy tripadvisor.co.uk