Bent review: Charlotte's Bistro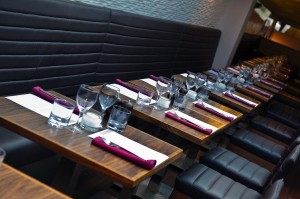 Adam Lowe ventures down to Chiswick for good gin and good food at Charlotte's Bistro.
Set in the heart of Chiswick, Charlotte's Bistro is a family-run eaterie with a keen eye for sustainability and ethics.
The bistro is rightly proud of its filtered water, recycled menus and recycled waste policy. In fact, Charlotte's Bistro was also one of the founding members of the Sustainable Restaurant Association. The restaurant relies on seasonal produce for its dishes, with ethically-sourced foods top of the list. Meanwhile, bar staff use seasonal fruits and herbs to concoct their delicious cocktails. But enough of the feelgood factoids. You want to know about three things: the food, the drink and the men, right?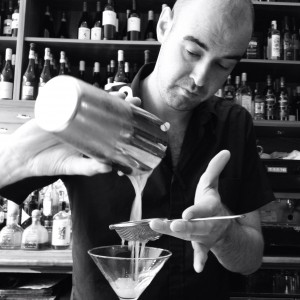 Charlotte's has a welcoming atmosphere. Senior bartender Ted Walsh greeted us with his prodigious knowledge of Bent's favourite drink: gin. Ted recommended the Ångermanland Hernö brenneri, London Dry Swedish Excellence, distinctive for its fiery kick and satisfying dryness.
Gin fans might also appreciate the One Foot in the Grass: Hendricks, fresh cucumber juice, elderflower cordial and freshly-squeezed lemon juice, served long. Gin lovers can even take part in Charlotte's famous 'Gin School', where each week on Monday, 6.30pm, a new producer introduces their gin. With free samples, of course. (Follow @GinSchool for regular updates.)
Whiskey lovers might instead opt for the Doctor's Prescription: a fresh cocktail with bite, comprising Rittenhouse rye whiskey, green Chartreuse and fresh cucumber juice, shaken and served on the rocks. Failing that you can drink in the atmosphere (or Ted's cheeky smile).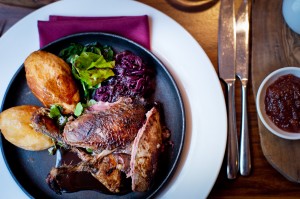 The seasonal menu changes monthly, but offers meaty, fish and vegetarian options as standard. Starters include the watermelon and soft herb salad, with depth of flavour provided by the pickled watermelon rind used in the recipe. The Dorset crab and Cornish mackerel also make for great first courses, being both light and flavoursome.
All the restaurant's fish dishes come via sustainable suppliers Fish for Thought. Mains-wise, this includes sea bream with sea vegetables (samphire, purslane, sea beat and monk's beard) with fresh mussels; and lemon sole in brown butter, served with smoked English back bacon, peas, lettuce and pea shoots.
The Macken Brothers provide most of Charlotte's meat, which is always free-range and naturally reared here in the UK. The Clwydian Vale lamb breast with glazed sweetbreads, baby artichoke and ewe's ricotta makes for a delicious spring dish. Those of you with particularly carnivorous tastes (or advanced anaemia) will definitely appreciate the meatiness of the restaurant's slow-cooked short rib of red ruby beef. It's served with a side of bone marrow, shallot and roasted tomato. The olive polenta with iron bark pumpkin, fennel, salsa verde and toasted seeds makes for a divine veggie option, and is rather filling too. On Sundays you can also opt for a roast rib of rare breed beef with a Yorkshire pudding, seasonal vegetables and gravy.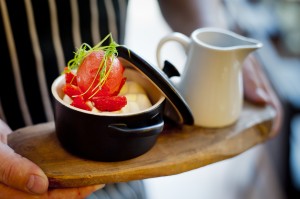 Desserts include a warm almond and blueberry bakewell, served with salted caramel, and carrot madeleines, served with poached yellow plum and vanilla syrup . Or you can opt for the British farm cheese selection, which is perfect if you fancy more wine!
Speaking of wine, try the Picpoul de Pinet, Chateau de la Mirande, from Languedoc (2010), which costs £26 a bottle. Those on a budget, but still with a mind for something tasty, can try the Bergerie de la Bastide Vins de Pays d'Oc, which come in red, white or rose for £18.
Prospective diners will also be pleased to know the bistro offers an early bird menu every day except Sundays, for tables taken between 5.30pm and 7pm. You'll get three courses and an aperitif for just £26.95.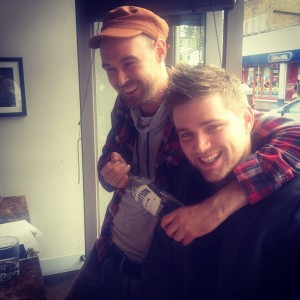 All in all, Charlotte's Bistro offers a vibrant highstreet eating destination, with cute boys, sound food and good morals. What more could you ask for?
Charlotte's Bistro,
6 Turnham Green Terrace,
Chiswick,
London
W4 1QP