MYSTERIOUS SKIN – Vertigo Theatre Productions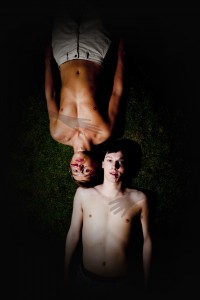 From the company who brought you 'M', Rage, Exam, Die, Mommie, Die! and OUT! comes a drama about two boys leading separate lives but connected by a shared experience in their past.
Hot on the heels of their critically-acclaimed play 'M', Vertigo Theatre Productions in Manchester bring to the stage the hard-hitting drama Mysterious Skin. Adapted by Prince Gomolvilas, Mysterious Skin is based on the bestselling novel by Scott Heim, which was later immortalised as a film starring Joseph Gordon-Levett.
Mysterious Skin has won awards and was internationally critically acclaimed. It will play from 22nd to 25th May, at Manchester's boutique home of drama, the Three Minute Theatre, in Affleck's Palace. The play features a young cast of emerging and fringe actors, and will be directed by award-nominees Craig Hepworth and Adele Stanhope.
Richard Allen stars as Neil and David Lock stars as Brian, with Ciara Tansey, Steph Reynolds, James Devlin and Katie Burgess.
Note: tickets originally went on sale on the 11th March and sold out within 24hrs. The run was then extended and that also sold out. More seats have been added and are now on sale via ticket agent Quaytickets. Organisers expect these to sell out quickly.