Wellbeing advice for transgender community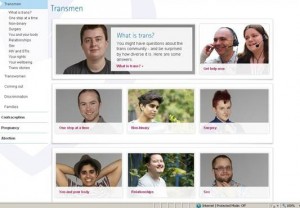 In a bid to improve the health and wellbeing of the UK's transgender community, HIV and sexual health charity Terrence Higgins Trust has launched new and expanded sections of its website containing tailored advice and support for transgender people.
Last year, in a UK first, the charity produced Trans Health Matters, two guides on a range of health and wellbeing issues affecting trans women and transmen. The guides proved incredibly popular with transgender communities both in the UK and overseas; because of this high demand, Terrence Higgins Trust has now added two new sections to its website at www.tht.org.uk/transwomen and www.tht.org.uk/transmen.
The new pages contain information and advice on a number of issues, from how to guard against HIV and other sexually transmitted infections (STIs), to more specific support for anyone considering or going through gender confirmation surgery. In addition to health information, the pages offer advice on broader wellbeing, including body image, disclosure, relationships, and civil and human rights. They also include a number of first person accounts written by transmen and trans women, and quick links where visitors can access support by telephone or online.
Michelle Ross, Trans Awareness Co-ordinator at Terrence Higgins Trust, said: "Following the publication of Trans Health Matters, we were swamped with requests from hundreds of trans people. What really stood out was how many of these requests came from other parts of the world. We always suspected there was a broader need for this kind of targeted information, and that's why we're thrilled that these new web pages will reach trans people all over the globe and support them to make more informed life choices which enhance their health, wellbeing and happiness."
While research into trans health remains patchy, there is a growing consensus that transgender people can be at a dramatically increased risk of HIV and sexual ill health. In Europe, estimates of HIV prevalence among trans women range from 11.5% to 57%. In contrast, HIV prevalence among the UK's general population is 0.15%, rising to 5% among gay and bisexual men.
For further information on Terrence Higgins Trust's services for transgender people, please email transwomen@tht.org.uk or transmen@tht.org.uk.