New Gay Sports Bar For London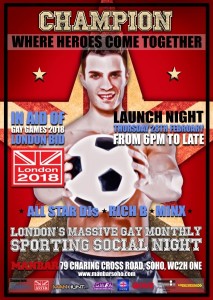 On Thursday 28th February 2013 Champion, London will have it's first ever gay monthly sporting social night. Champion is for gay sporting people to come together on the last Thursday of each month for a night of networking, sharing information, recruiting and having a good time.
The Champion launch event will be aid of London 2018 – the Sports London bid to host the 10th Gay Games in London in 2018. Every Champion event will raise money for sporting groups in London. The first three events will be aid of London 2018.
Sport London is bidding to host the tenth Gay Games in London in 2018. The Gay Games is held every four years, it comprises a week long sports, cultural and human rights event. It's open to all, regardless of sexual orientation, age, ability and attracts over 12,000 participants from 70 nations – making it the largest sporting event in the world!
The Champion launch will raise much needed funds for the London 2018 bid at the same time raising awareness for all the gay sporting groups in London. On the night punters will be able to find out more information about London's gay sporting groups. There will also be a fashion show, raffle and prizes given away. All star DJs Rich B and Minx from 9pm spinning some dance tunes.
Please note, Manbar never charges for entry to the venue and this applies to Champion – free entry for everyone. However volunteers will be on hand collecting for the London 2018 bid and all donations will be graciously welcomed.
Champion would like to thank it supporters who are rallying behind the night to help make it a successful launch and permanent event for London's gay sporting heroes.
Champion Launch Party kicks off on Thursday 28th February from 6pm at
Manbar, Prowler, Manhunt, GMFA, Out For Sport, Boyz, Pleasuredrome, Expectations and Manbar.
The next Champion social events are Thurs 28th March and Thurs 25th April.
More information at www.manbarsoho.com