Brighton Pride announces theme for this year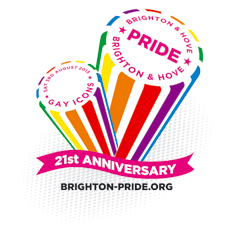 OK, there is no excuse for not coming up with a stunning outfit for this year's fantabulous Brighton Pride. They are giving you tons of notice as to the main theme of the event… so get out your patterns, dig into the back of the wardrobe and produce something exquisite… or camp at the very least.
Brighton Pride has announced the theme for this year's spectacular Pride celebrations in Preston Park and the eagerly awaited and popular LGBT Pride community parade planned for Saturday 3rd August that marks 21 Anniversary of Brighton Pride.
'GAY ICONS' is the theme for 2013 placing emphasis on the vast array of Iconic LGBT figureheads, campaigners and popular celebrities that have shaped and advanced LGBT culture and the cause of equality throughout history. News of the theme should set sewing machines whirring and sequins flying all over the city as an expected deluge of Gagas, Monroes, Madonnas, Boy Georges and Freddie Mercurys plan their costumes for the event of the year. Other important Icons to celebrate will be the likes of Oscar Wilde, Quentin Crisp and Alan Turing.
"There are so many important and influential people for us to celebrate as a community'" says Paul Kemp "they range from the most spectacular and celebrated stars of stage, screen and music to those who have changed the lives of the LGBT community and furthered equality through politics and sheer bravery. It is important that we highlight LGBT people who have been instrumental in all aspects of life"
Who's your favourite gay icon? – tell
Pride Festival & Parade on Saturday 3rd August
Brighton Pride Arts & Film Festival 19th July – 4th August
www.brighton-pride.org