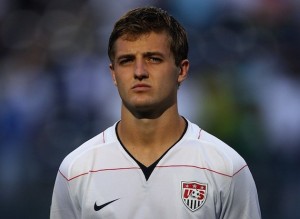 Robbie Rogers, a former player for Leeds United, has announced on his blog that he is gay.
The 25 year-old American, who had been capped 18 times by his country, said that he'd been afraid to reveal his sexuality but that it was now time to step away from football and have time to "…discover myself."
Recently, Rogers had been playing football for League One side Stevenage wrote on his blog: "Secrets can cause so much internal damage. People love to preach about honesty, how honesty is so plain and simple. Try explaining to your loved ones after 25 years you are gay. Try convincing yourself that your creator has the most wonderful purpose for you even though you were taught differently."
His coming out is the first by professional UK based player since Nottingham Forest striker Justin Fashanu revealed his sexuality in 1990. Unfortunately, 8 years later, at he age of 37, he committed suicide. Since then, any player who was, or is, homosexual has been encouraged to keep that fact from becoming public knowledge. Attitudes may have changed but, as the chairman of the Professional Footballer's Association, Clark Carlisle said in a recent interview… that although he had talked to eight gay players, none of them wished to go public.
Ex teammates from Leeds United, and across the profession, have been highly supportive on Twitter of Rogers announcement but whether this will give confidence to any other player remains to be seen.