The Independent on Sunday's Pink List
Nicola Adams tops The Independent on Sunday's Pink List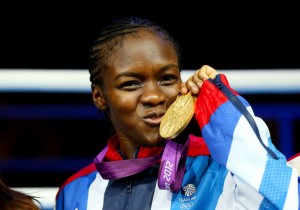 No. 1 position of The Independent on Sunday's most influential Lesbian, Gay, Bisexual and Transgender figures in the UK will be revealed on Sunday
This Sunday, The Independent on Sunday will reveal its 13th Pink List, detailing the 101 most influential Lesbian, Gay, Bisexual and Transgender figures in the UK. It will reveal that Olympic gold medal-winning Boxer, Nicola Adams, has topped the list.
Nominated by readers and finessed by a panel of judges, the list is designed to highlight LGBT heroes – whether they are in the public eye or unsung champions campaigning for progress and equality.
Those involved in London 2012 dominate the top slots in this year's list.  Olympic gold medal winning Boxer, Nicola Adams (1) tops the list, saying; 'It's amazing to be on the list of such an inspiring and influential people, 2012 continues to be a great year for me so thanks to everyone for their continued support'.
Clare Balding (2), star of the BBC's Olympic coverage follows at number two. Battling through his allergy to horses and muscle weakness disease, Paralympic equestrian Lee Pearson (4) accompanies Olympic equestrian Carl Hester (5) inside the top five for their successes at the Games.
Veteran human rights campaigner and founder of the Peter Tatchell Foundation, Peter Tatchell, (3) is also included for his work campaigning to stop LGBT asylum seekers being deported to homophobic countries.
Nick Grimshaw (8), the man celebrated for making Radio 1 young again, debuts at number eight, just below British actress and lesbian campaigner Heather Pearce (7). Also included is Big Brother 13 winner and chef Luke Anderson (10).
In the Political sphere, Government Minister Greg Barker (6) features higher than fellow Minister, David Laws (9) who is also included within the top ten, due to his return to Government after previously resigning over an expenses scandal.
John Mullin, Editor of the Independent on Sunday says; 'I am proud to announce the thirteenth annual Pink List, celebrating influential and high-profile lesbian, gay, bisexual and transgender people in the UK. The top ten reflects those who have helped truly inspired Britain over the past year'.
The top ten are as below:
1.     Nicola Adams – Olympic Boxer
2.     Clare Balding – TV Presenter
3.     Peter Tatchell  – Gay rights campaigner
4.     Lee Pearson MBE – Paralympic Equestrian
5.     Carl Hester – Olympic Equestrian
6.     Greg Barker – Minister of State for Energy & Climate Change
7.     Heather Pearce – Actress
8.     Nick Grimshaw – Breakfast Radio Presenter
9.     David Laws – Minister of State for Schools and the Cabinet Office
10.  Luke Anderson – Winner of Big Brother 13