TV favourite Sue Perkins was among 11 winners at last night's Stonewall Awards. The annual ceremony honours those who've made a positive contribution to the lives of Britain's 3.7 million lesbian, gay and bisexual people. Over 450 people attended the ceremony, which was hosted by Gok Wan. The Great British Bake Off host Perkins – named Entertainer of the Year – dedicated her award to her comedy partner Mel Giedroyc.
Almost 10,000 Stonewall supporters voted for Reverend Giles Fraser to receive the Hero of the Year Award as an inspirational faith leader who supports gay people. Collecting his award, he congratulated Stonewall for standing up to bigotry as the charity's supporters voted for Cardinal Keith O'Brien – who has called gay relationships 'grotesque' and 'harmful' and compared them to slavery – to receive the Bigot of the Year Award. Fraser said: 'I'm ashamed that I share the same profession as so many of the people that were nominated and received the Bigot of the Year Award. Why I'm proud of Stonewall, and why I'm proud and delighted to have received this award, is because what you seek to attack, and what you seek to challenge, is fear.'
Jeanette Winterson was named Writer of the Year for her bestselling memoir, Why Be Happy When You Could Be Normal? and said her award was 'a really wonderful thing'. The Rugby Football League received the Sports Award of the Year. Its Equality and Diversity Manager, Sarah Williams, said: 'This is a fantastic honour for rugby league. We're proud to stand up and say there's no place for homophobia in sport.'
Other winners included columnists Owen Jones and Hugo Rifkind, who collected a joint award for Journalist of the Year. Rifkind, speaking about his support for equal marriage in his Times and Spectator columns, said: 'This is about logic and universal humanity.'
Collecting the Broadcast of the Year Award with the production team of Britain's Got Talent, dancing duo the Sugar Dandies said: 'We'd like to thank ITV for having the courage to put obviously gay acts on primetime television. They allow us to be ourselves, and to tell our story openly and honestly in front of millions of viewers.'
East London-based charity, East London Out Project (ELOP), was named Community Group of the Year, and collected a £5,000 cheque from the Inclusive Foundation to support its work with vulnerable gay people.
Stonewall Chief Executive Ben Summerskill said: 'As ever, I'm humbled by the dedication with which this year's Award winners have been advancing equality for millions of people. Their efforts have never been more valuable and we will never be deterred from celebrating their contribution – or from highlighting the bigotry and malice expressed by some public figures towards gay people in this country.'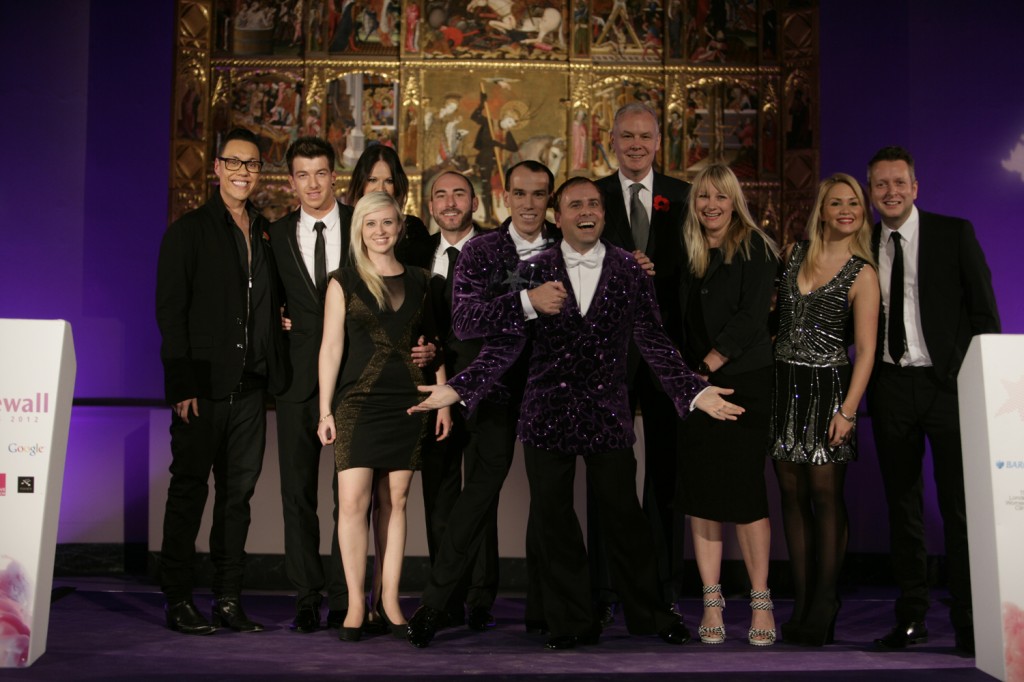 Photography by Mark Weeks