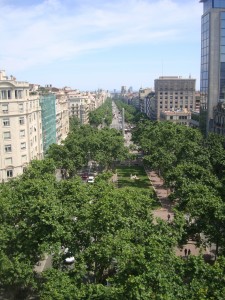 La Rambla is the most famous street in Barcelona. The wide boulevard is the heart of the city and connects the Plaça de Catalunya, a busy square, with the Columbus Monument and the city's waterfront.
It is a 1.2 Km walkway where you will see an assortment of restaurants ands bars, stalls and street performers along with the many thousands of people that promenade up and down the Ramblas until the early hours of the morning.
It will most likely be your first stop in Barcelona, and rightly so. This area is a must-see. Even though it's packed with tourists, it's an exciting, lively neighborhood perfect for ambling around, shopping, and eating. You can take a pleasant stroll, enjoy some great people-watching and admire the beautiful medieval architecture of the Barri Gotic all around you.
What to see
There are some amazing buildings in Barcelona and the Sagrada Familia is one of them. It is a giant church designed by the master architect Antonio Gaudi. This building has been under construction since 1882 and they've still got approximately another 23 years (depending on funding and resources) to go before it will be finished. Some people love the Sagrada Familia and some people hate it but whatever you think I guarantee it will cause a reaction one way or the other.
Another one of Antonio Gaudi's creations is La Pedrera, once again this hits the top 10 most visited attractions in Barcelona. This building used to be called Casa Mila but nowadays it's more commonly known as La Pedrera which means "quarry". Gaudi was instrumental in completing this building and his characteristic wavy brick work and colourful tiles are also evident on this masterpiece.
Another must see is The Magic Fountain of Montjuic. It is a spectacular display of colour, light, motion, music and water acrobatics – if you mix all these elements together in just the right combinations, you end up with pure magic!
What to do
Placa Reial in Barcelona is a popular square just off the Ramblas. It's a social focal point especially at night and is often packed with Barcelonian's and tourists who are soaking up the atmosphere and enjoying some food or drinks at one of the restaurants or bars that surround the square. Arguably Barcelona's most iconic square, the Placa Reial is a beautiful quadrangle in the Gothic Quarter flanked on each side by ochre houses with wooden shutters and decorated with palm trees, Gaudi-designed streetlamps, public seats and a bronze fountain. One of the city's social hubs, there's always something going on in Placa Reial, as tourists sip their sangrias in the many restaurants.As day turns to night, clubs like Sidecar and Jamboree quickly fill up with backpackers and other party animals as the plaza becomes a centre of Barcelona's nightlife.
Barcelona has great food, there is no doubt about it. You can get anything you want from international food to Catalan favorites, tapas to seafood platters. All you have to do is look around, there are lots of very reasonably priced restaurants, as well as some extremely pricey ones. Tapas is particularly good around Barceloneta, this was originally a fishing village and there are still many quaint little local places where you can get fresh seafood tapas for good prices. For couples I recommend Limbo on Calle Merce, it's subtle, romantic and the food is delicious. If you want something a little more upbeat then why not try one of the Italians down Calle Ample
Barcelona is a party city, whatever time of the night or morning there is always something going on. There are bars to suit everyone, weird ones, secret ones, Catalan ones, Irish pubs, ones with great views and ones with a trendy clientele. The bars are open here till 3 normally so there is no rush, wander around and move to place to place.
Sitges is a lovely town 35 Km South of Barcelona absolutely worth a visit. Sitges is especially well known for its gay life, attracting 1000's of gay men of all ages every year, not a mention it's carnival, its nice weather and its excellent night life. One of the main attractions of Sitges is the large number of clean sandy beaches. Between the distinctive Parish Church at one end of the promenade and the Terramar Hotel at the other there are no fewer than nine breakwaters, with gently sloping golden beaches in between, most of which offer sunloungers for rent, showers and refreshment kiosks. But that's not all – if you want to get an all-over tan away from the gaze of gawping straight tourists and you're feeling energetic, it's worth the effort heading out to the nudist beaches beyond the Terramar Hotel.
At the bottom of La Rambla is the harbour. The first building you see is the beautiful "Port de Barcelona" building at the water's edge.  You can then proceed over the walkway to the shopping centre, or along the harbour wall.  Inside the shopping centre there are restaurants and bars as well as shops and access to the IMAX cinema. The best place to get a chilled fruit sangria at the port is is one of the many outdoor bars and cafés. The Bar Colombo is a little tapas bar with a sunny terrace.
However you spend your trip to Barcelona, you will not be disappointed, just make sure you don't stay too far away from The Ramblas.