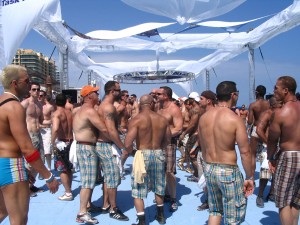 Report shows €50 billion annual spend by gay European tourists
A report shows that gay Europeans spend up to €50 billion ($65 billion or £41 billion) each year on tourism. The study comes as the Gay European Tourism Association (GETA) launches Gay Welcome, its new website to help people find gay and gay-friendly hotels, events and destinations throughout Europe..
Although 'out' gay people only represent 2.6% of the European population, the €50 billion spend represents 8% of the €632 billion that the European Union estimates is spent on tourism in Europe each year.
"Gay people are a great market for the tourism industry" said Carlos Kytka, Executive Director of GETA. "Because we tend not to have children we have more disposable income and free time.  We have a higher propensity to travel, particularly in quieter periods outside school holidays."
Increasing numbers of hotels are appealing to gay tourists.  GETA's GayWelcome.com website lists over 3,500 hotels and guesthouses throughout Europe that welcome gay guests.  Travellers can rate their experience and recommend local attractions.  The site also provides guides to gay destinations and major event listings throughout Europe.
"You don't have to paint your hotel pink to appeal to gay guests" said Carlos Kytka. "You just need to make us feel welcome.  Gay people who are questioned about sharing a double bed or excluded from honeymoon and valentine offers are not going to come back."
GETA is rolling out programmes to help its members understand how to welcome and promote themselves to gay guests.  "As societies become more open to gay men and women, businesses cannot afford to ignore this important market segment" said Kytka. "We want to improve the travel experience in Europe for gay people and help gay-friendly companies to prosper and grow."
The Gay Tourism Matters is available for free on www.geta-europe.org and the Gay Welcome website is www.gaywelcome.com