American Connection – Martha Wash
MARTHA WASH IS SOMETHING GOOD
BY DUSTIN FITZHARRIS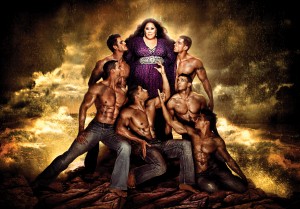 Thirty years after singing "It's Raining Men," Martha Wash is still going strong. In a career that has spanned nearly four decades, Wash has sung some of the biggest hits in dance music, including the chart-topping "Gonna Make You Sweat (Everybody Dance Now)" and the inspirational "Carry On." However, as Wash once put it, "Unless you are a die-hard fan, you wouldn't know who I was."  Now, The Queen of Club Land is ready to claim her legacy. After earning eight #1 hits and an additional eight Top 10s on various Billboard Charts, Wash is releasing Something Good.  It will be her first project of all new material in almost twenty years.
"I'm trying to move my career forward," Wash says about why she returned to the studio. "I've been working all along, but people weren't really seeing me unless they were coming to my shows. People know the music, but they need to see me."
But don't call Something Good a comeback because Wash says she's never gone away.  "Where have I been?" she laughs. "I've been right here—working!"
Wash continues to headline concerts world wide, and recently appeared at the Montreux Jazz Festival in Switzerland, where she performed a tribute to dance music at the request of Nile Rogers, Quincy Jones, and founder Claude Nobs. In an age where artists come and go, Wash has proven she is a survivor. Along with Izora Armstead, she began singing background for Sylvester under the name Two Tons O' Fun. Together, their dynamic, soulful voices can be heard on his signature song, "You Make Me Feel Mighty Real." Eventually Wash and Armstead released their own recordings, including three Top 5 Billboard dance singles, "I Got the Feeling", "Earth Can Be Just Like Heaven" and "Just Us."
In 1982 the duo announced, "Hi, we're your weather girls and have we got news for you!" Within the blink of an eye, Two Tons O' Fun became The Weather Girls and "It's Raining Men" went on to receive a Grammy nomination, an achievement Wash considers the most memorable moment in her career. In 1984 The Weather Girls lent their voices to Rebbie Jackson's hit, "Centipede." By the late '80s they went their separate ways, and Wash forged ahead as a solo artist.
In spite of the ballads she has recorded, including her #1 R&B duet with Luther Vandross, "I Who Have Nothing," Wash has been labeled a dance artist. Proving she is much more, Something Good finds the songstress taking chances and singing skillfully crafted pop/adult contemporary songs. The first single is a beautiful ballad, "I've Got You."  It's a song Wash says speaks to everyone. Initially she had reservations about doing material audiences wouldn't expect from her, but realized that as an artist, she couldn't play it safe.
"I'm just spreading my wings more and moving in another direction. As long as you live you're going to get a little older," Wash says. "Are you going to keep doing the same things you were doing in your twenties when you get into your fifties? It's about advancing and moving on."
"You may stumble and fall, but you've got to get up," confirms Wash. "You can't stop moving. Finding your path is the journey. Along the journey you have the highs and the lows, but you can't stop because time will keep on going with or without you."
In 1991 Wash proved her strength and became a pioneer for artists when she sang the lead vocals on C&C Music Factory's #1 hit, "Gonna Make You Sweat (Everybody Dance Now.)" However, in the accompanying music video, her vocals came out of the group's lead singer's mouth because her image had been deemed unmarketable due to her size. Furthermore, she also failed to receive proper credit and compensation on vocals she did for Black Box's album, including their Top 10 songs, "Everybody Everybody" and "Strike It Up", and Seduction's "You're My One and Only (True Love)". While others may have backed down, Wash filed a lawsuit and won. Her efforts now make it mandatory for artists to receive rightful credits on albums and music videos.
In spite of the difficulties, Wash always maintained a positive outlook. Her new song "Destiny," which she co-wrote, tells the story of her path. "Letting go was never easy for me. I was holding so tight, but it never felt right. Couldn't see the person I could be through all this pain."
Wash hopes the eight songs from Something Good, an album she calls empowering, will inspire others to find their strength inside and follow their destiny.
"Whatever song they listen to, I hope they get something positive out it," she says.
Something Good comes on the heels of the thirtieth anniversary of "It's Raining Men." It seems impossible to comprehend today, but Barbra Streisand, Donna Summer, Cher, and Diana Ross all passed on the iconic song. In fact, Wash and Armstead weren't too keen on recording the tune either.
"Paul [Jabara] played the song for us and said, 'I want you to record this.' Izora and I just laughed and laughed and said, 'You've got to be kidding.' He said, 'No, I just know this song is going to be a hit.' Then we laughed some more! We went into the studio the next day and recorded the song in about ninety minutes and walked out of the studio and went about our business. Now it's an official classic."
Wash says people still love the song because it is fun. She doesn't deny that it's campy, but when she sees that older people know it, their children know it and sometimes their grandchildren know it, she proclaims, "I can't be mad about that!"
Martha Wash still loves every minute of performing.  While her dance and disco fans revere her, the time has come for Wash to receive the accolades she's earned from all audiences. The truth is told in the haunting new ballad "Proud": "I'll make you proud of loving me. You won't regret that you believed. How did you see what no one else could see in me?"
If you don't know who Martha Wash is by now, you're missing out on something good.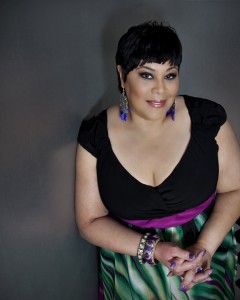 Martha's new album, "Something Good", available on iTunes 31st October.
www.marthawash.com