Travel – Gay Palm Springs By Neil Geraghty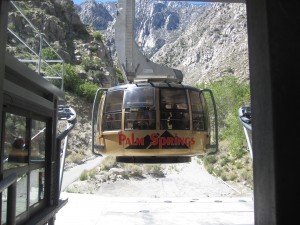 Palm Springs is the original Queen of the Desert. This wonderfully sunny oasis 2 hours west of LA wears its camp heart on its sleeve. Where else in the world could The Fabulous Follies, a revue of retired showgirls high kicking their way through Broadway hits, play to sell out audiences night after night? With 40% of the population gay and with 25 exclusively gay resorts it's hardly surprising that this high camp extravaganza is the hottest show in town..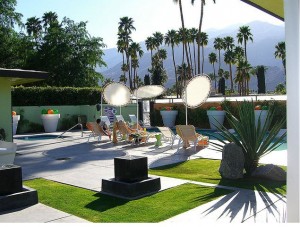 Show business has always been at the heart of Palm Springs's success. Blessed with an idyllic winter climate "The Springs" was discovered by Hollywood in the 1920s and silver screen legends such as Clark Gable and Greta Garbo quickly made it one of the most fashionable playgrounds in the world. Wherever Hollywood glamour goes, a large contingent of gay stylists and designers is sure to follow and as a result, Palm Springs has one of the longest established gay communities in the world. By the 1980s, Palm Springs' tinsel town sparkle had begun to fade and the gay community played a key role in reviving the town's fortunes. Palm Springs has one of the finest collections of mid 20th century architecture in the USA and many nostalgic gay residents were quick to snap up sleek, angular desert modernist homes that had long since gone out of fashion. Lovingly restored, these homes recaptured much of the lost glamour of Hollywood's Golden Age and before long, hotels, bars and restaurants were all jumping onto the retro feel good bandwagon. From martini pool parties to hip fashion shoots Palm Springs is once again at the cutting edge of Californian style.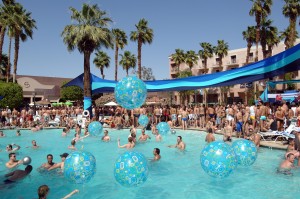 Gay visitors can get a slice of this dream Californian lifestyle at the swish gay resorts in the leafy neighbourhood of Warm Sands. During the winter months, gay snow birds from the east coast flock to Palm Springs to lap up the town's legendary sunshine. Lying in the rain shadow of the magnificent San Jacinto Mountains, Palm Springs enjoys 354 days of sunshine a year and is always a good 10 degrees warmer than LA. Gay resorts such as The Century make the most of this glorious weather. A handful of guest rooms with sliding glass walls look out onto a  sunny patio dotted with retro 60s style garden furniture. The pool is just metres away and there's no better feeling in the world than chasing away the winter blues in the sublime sub tropical sunshine.
Palm Springs' beautiful natural setting is a magnet for nature lovers and at weekends you'll spot dozens of gay residents in safari shorts heading off for hikes in the desert.  Indian Canyons is an especially lovely spot where trails wind along bubbling brooks lined with ancient palm groves. For some aeronautical thrills and spills, hop onto the Palm Springs Aerial Tramway, the world's largest rotating tramcar which soars 8,500 feet above the splintered cliffs of Chino Canyon. In winter you can enjoy a clothes optional morning by the pool before taking the tramway up to the snowfields for an afternoon of cross country skiing. If you're lucky enough to be in town in mid February you'll catch the Palm Springs Desert Modernism Week which showcases the best of Palm Springs' wonderful mid 20th Century heritage. Don't miss Frank Sinatra's house with its piano shaped swimming pool while for a real splurge you can attend a cocktail party in the iconic Elrod House where Bambi and Thumper famously gave Sean Connery a good seeing to in Diamonds are Forever.
https://mag.bent.com/limerick-social-club-meetup/
The great thing about going out in Palm Springs is that almost every venue gay or straight is packed with gay locals. An essential morning ritual while walking the dogs is dropping by at Koffee to meet up with friends over the best macchiatos and muffins in town. The sunny lawn at the back would be a perfect scene of gay brotherly love if it wasn't for the constant dog fights breaking out between rival gay poodles and Jack Russells. A wonderful way to kick off the evening is to drop by at the happy hours hosted by many of the gay resorts. At the Century, Charlton the manager might even give you a rendition of his favourite Motown hits on the vintage Hammond organ in the reception.  For a slice of Hollywood glamour, stroll over to The Riviera Hotel where Elvis and Sinatra once crooned in the 60's. Order a cocktail, grab a seat by the fire pits next to the pool and soak up the mellow Californian vibe under the desert stars.
 https://mag.bent.com/google-todays-date/
Although the whole of Palm Springs is essentially one big gay village, you'll find the largest concentration of gay venues along Arenas Rd slap bang in the town centre. Local lounge lizards scurry over to Streetbar after work for sunset tequila shots. Hunters next door is Palm Springs flagship night spot and with hot go go boys and cute bar staff you could fry an egg on the sizzling bar. Entertainment lounges are very popular in Palm Springs and on Tuesday nights if you spot a drag queen sprinting down the street in pursuit of hot straight lads it will be Jersey Shore begging them to join the fun at Azul's. Expect more than cactus pricks at The Tool Shed, the desert's raunchiest leather and Levis bar.  The most famous event in Palm Springs' gay calendar is The White Party held over Easter weekend. It's one of America's most famous circuit party events with stellar guest performers and pulsating pool parties. Whether you like partying with Californian beefcake or prefer a few mojitos with a group of friends, it's this laid back poolside lifestyle that makes Palm Springs one of the most relaxing gay resort destinations in the world.
https://mag.bent.com/tinder-hookup-video/For more information on Palm Springs visit dating for cash