Travel – AUSTRIA: CULTURE, CLASS & CUTIES

VIENNA: A QUICK AND QUEER TOUR
Vienna is a unique blend of contemporary style and grandiose heritage. Modern art sits besides decadent sculpture, and buzzing nightlife can be found just a stone's throw away from lavishly constructed imperial architecture. From beautiful sights to  vast saunas, Vienna has it all.
TEN UNMISSABLE HIGHLIGHTS IN VIENNA
Try the Viennese specialities in Café Bloom, Rotenturmstrasse 15.
Pop the cork on a classic wine from Lenikus' vineyard.
To bring out your inner queen: take a luxurious horse-drawn carriage ('fiaker') to explore the city.
Head to St. Stephen's cathedral and ascend all 343 steps to the Tower-Keeper's Room, where you can enjoy the sublime view.
Be enchanted by the performances at the Vienna State Opera.
Lose yourself in more than a hundred museums and exhibitions.
Treat yourself to a decadent treat from the Confisierie Altmann & Kühne.
Discover the treasures of Viennese manufacture: Horn leathergoods, Ludwig Reiter, Lobmeyr Crystal and Augarten Porcelain

Visit Schönbrunn to walk in Sissi's footsteps.
Take a ride on the Riesenrad, Vienna's famous giant Ferris wheel.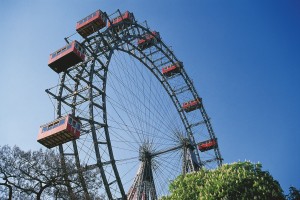 BY DAY
Café Berg is close to both the university district and the historic city centre. It also offers outdoor seating. The salmon breakfast with prosecco and scrambled eggs in truffle-scented oil are a highlight for a light but indulgent brunch.
Café Willendorf is on the ground floor of The Rosa Lila Ville. The café features a wonderful courtyard for al fresco dining with prices that are more than affordable.
Mariahilfer Strasse is where you'll find all the highstreet chains, but also sex shops such as Spartacus XXL-Store (and the nearby Tiberius, just off the highstreet). If you want to splash your cash on designer gear, head to Kärtner Strasse, Graben and Kohlmarkt.
Löwenherz bookstore, next door to Café Berg, offers a range of queer-interest magazines, books and DVDs in a variety of languages.
Naschmarkt is an outdoor market perfect for bargains. Just up the road is the Klimt exhibition at the Secession gallery.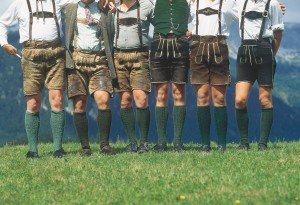 BY NIGHT
Café Savoy is a café-bar with vast single-plate mirrors and a friendly atmosphere. The crowd is very mixed, although generally a little older. Located as it is on the Naschmarkt, it is a perfectly placed retreat from the hustle and bustle of the marketplace.
Village Bar is located just off a Naschmarkt sidestreet, making it perfect for a follow-up destination to Café Savoy. The crowd is younger, hipper and inevitably more energetic, although the compact venue fills up quite quickly most nights!
Kaiserbründl, on Weihburggasse 18, is the first stop-off for any fan of saunas. This raunchily decorated place looks like the inside of a palace (for queens who like a lot of cock). Think neo-classical artwork, but with plenty of bumsex.
When you're ready to crash, Hotel Topazz on Lichtensteg 3 is the only place to stay. Luxury and masculine decadence are the name of the game, with guests able to make full use of the free minibar and private members' lounge in the basement.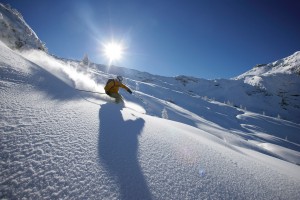 NEARBY DESTINATIONS: LINZ & SALZBURG
Vienna is well connected to the rest of the country, so it shouldn't be too difficult to explore a bit more of Austria should the mood take you. A couple of hours away is the city of Linz. Linz is the perfect blend of small-town class and city sass. A steel city with buzzing nightlife and a very mixed crowd, Linz is full of all the latest gadgets and sports the Ars Electronica Center, with its hip 3D venture through the cosmos: the Deep Spaces exhibition.
The 2009 European Capital of Culture, Linz calls itself the gayest city in Austria, with its Sonnendeck summer festival and HOSI Linz's year-round programme of queer events that include everything from knitting to dance classes. Gay venues include Café Julius, the Richtig Bar, the dragtastic Stonewall, the brand new Q.SPOT and risqué Blue Heaven (complete with its own dark room). Check out Spitz Hotel (spitzhotel.at) and dine at the Sky Garden (skygarden.at) for the ultimate gay experience.
Another 90 minutes from Linz is Salzburg: the charming home of both The Sound of Music and Red Bull! Take skiing lessons on the snowy mountains, or check out the pimped-out planes in Red Bull's Hangar 7, where the food is served in glasses and the elegant but simple menu is designed to boost either beauty, mind or mood. Make sure to check out Mexxx for cheap drinks (including some Red Bull and prosecco cocktails) and cute boys.
In Salzburg you can also find one of the many former homes of Beethoven and the magnificent St. Peter's cathedral. Check into Hotel Ausperg for an ultra-modern villa-hotel.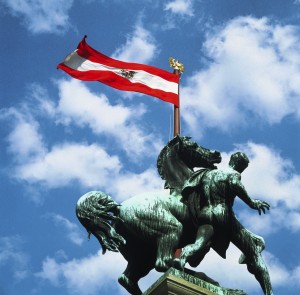 ACKNOWLEDGEMENTS:
Thanks go to Tourismus Salzburg, Tourismusverband Linz, and the Vienna Tourist Board.
Image:  Austia Nation Tourist Board