Jodie Harsh By Ryan Houston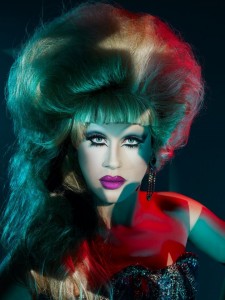 Even if you are not a London scene queen you will have no doubt heard of drag star, glamour-puss and friend to the stars, Jodie Marsh. Ms Harsh has reinvented herself, and in so doing, has given the capital's gay scene a much needed shot in the arm. She is the hostess with the mistress (yes she is definitely in charge), a much in demand DJ and has just recently produced ex-Spice Girl Mel C's latest offering.
You've recently teamed up with Melanie C – Can you tell readers a bit about the EP?
We met at a birthday party a couple of years ago and stayed in touch. I, like every good gay, had Spice Girls albums back in the day, and she knew of me and what I do with clubs and remixing, so we decided to get into the studio and lay some tracks down.  
What do you think of the end result?
The result is a three track mini-album with dance music roots, but there's a bit of everything in there – Set You Free has dubstep and trance, Sunrise is a little more Ibiza with big synths and a sing-along chorus, and Walk Away is a little mellower, it's a bit of a ballad but with a sort of trip-hop beat. Melanie's voice is so smooth, and so versatile. Each track is so different but they all suit her vocal style.
What did you each bring to the tracks?
I brought the beats, Melanie brought the voice and we both wrote the song lyrics. She is great fun to work with and a true pro – all the notes were hit on the first go and each song was recorded in a few hours. The actual production took much longer…on and off for months. I kept changing my mind out how each track should sound – the demos were much more different to the final tracks! Set You Free was like a totally different record, it was less Spice, more Steps. I totally changed the music, stripped everything back apart from Melanie's voice, and started again. 
What was it like working with Melanie C?
It was amazing working with Melanie, and a pleasure. She's so upbeat and fun – great at lifting me out of my bad moods!