Johan's Blog – Ferry nice meeting you.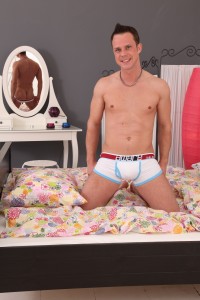 At last, the summer has begun! The sun is warm, the days are long – and boys have started wearing shorts and sleeveless shirts instead of thick jackets and long trousers!
So, it should come as little surprise that I decided to enjoy a 10 day break in southern Sweden with some friends. Ten days without porn – without having to sit editing horny scenes and gangbangs for 12 hours a day – without having to film cum-shots or double penetrations! Above all else, 10 days without having to deal with hysterical models behaving like divas!
This trip was also somewhat special because it was going to be spent with some mates from my old school and hometown rather than with my boyfriend – who had to work. All of them are as straight as fuck, by the way; and whilst they've accepted that I'm gay and I've tried to introduce them to the pleasures of anal sex, they all still prefer plowing a lady garden rather than a lad's butt! All told then it was set to be ten days of sunshine, stupid jokes, drinking alcohol and a great deal of sport and recreation – but sex was definitely gonna be off the agenda!
Or at least that was what I thought. I never imagined for one moment that I would end up adding a further sex story to my book of adventures.
It happened on the car ferry on our way over to Sweden. We waited in long lines of cars before being allowed to drive onto the ferry – during which time we were surrounded by a whole host of family cars, each of them filled with screaming kids, shouting mothers and dads on the brink of heart-attacks. What a fabulous start to my holiday, I thought to myself. Thank God, I'm gay and will never have to endure all of that later in life!
A few cars behind us was an old Volkswagen bus with a bunch of guys – all of whom were about our own age. They listened to loud music, looked a bit drunk (or stoned!) and I'm sure were all in need of a shower. In short they were half a dozen of the kind of chaps you meet on the third day of a rock festival – if you get my drift – but their clumsy, puppyish manners also meant that there was something quite cute about them. Especially the one guy who kept shyly glancing at us in an expectant sort of way. Too bad then that I was on holiday with my straight mates and wasn't looking for sex at all.
Anyway, it just so happened that once we were on the ferry this bunch of lads had to park directly in the row next to us. As a result, we found ourselves chatting to each other as we headed up from the parking levels to the decks above. It turned out that they came from Germany – near Berlin – and that this was their first trip together. They were all members of some kind of group or club, but to be honest I wasn't really listening and I certainly don't remember. Fact is, I was spending all my time concentrating on the one particular guy who'd previously caught my attention.
He continued to watch me and smile, so I introduced myself and we began to talk – at which point he revealed that he knew who I was and explained that he was a fan of my movies. He also told me that to fund his university studies he works for a phone-sex company doing gay chats. All the time he was trying really hard to catch my attention and there was no doubting his ability to turn a guy on just with a few words. He then admitted that he'd never had sex with a porn star before but that it was something of a fantasy of his – before taking time to describe in close detail exactly what he'd love to do with me. Or, more precisely, what he'd love me to do to him!
It proved quite handy then that this old VW bus was parked down on the lower deck. Officially, of course, you're not allowed to stay in your vehicle during the ferry crossing, but we managed to sneak downstairs and before I knew it I was in the back of the bus having sex with this guy on some old worn sleeping bags. If I'm honest, the van was a little bit smelly – although what else would you expect given that a group of teenage guys had travelled in it for several days? Still, I didn't mind that much. The sex was fast and satisfying and I enjoyed it, although I couldn't help feeling a tiny bit annoyed with myself given the fact that I'd ended up having sex with a total stranger on the first day of the trip when I'd planned to live like a monk for the entire ten days! In addition, I had to face my friends and all their stupid grins and raised eyebrows when we went back up to the foyer-level.
I'd never had sex on a ferry before, so I'm happy to add that place to my list That encounter apart, however, the holiday with my mates proved to be really quiet and without any further sexual adventures. Exactly the way I had planned things!
I wish you a lot of fun and loads of sex during your summer holidays. But remember: if it's too boring for you then feel free to browse on Staxus.com or get a horny DVD.
Kisses,
Johan.