United Colours of Brighton Pride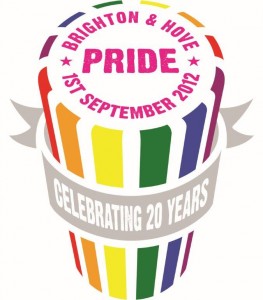 For the first time in its history the theme for Pride in Brighton and Hove, to be held on 1st September, has been chosen by its diverse and celebrated local community. A competition launched earlier in the year in the city's Argus newspaper invited readers to suggest a theme for the celebrations; the Directors of Pride are delighted to announce that the public vote has chosen The United Colours of Pride as the theme for this year's parade and Preston Park event.
The United Colours of Pride is an international theme that celebrates the rainbow flag, using it to raise awareness of those countries where the LGBT community still faces discrimination, giving the event a political edge and relevance in 2012 while not detracting from the carnival atmosphere and colour of the Parade. This year's Pride festival – now run by a new community interest group, Pride in Brighton and Hove – sees the selection of this striking theme by the public as an important step in reinstating Pride to its political roots, whilst celebrating the journey of the LGBT community over the years.
£1 of the price of every ticket sold will be donated directly to the Rainbow Fund to distribute through their grants program to local LGBT/HIV organisations and charities providing front line services to the LGBT community in Brighton and Hove.