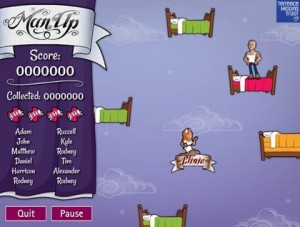 HIV and sexual health charity Terrence Higgins Trust has launched an addictive platform game with an important message for gay and bisexual men: the more men you have sex with, the more often you should screen for sexually transmitted infections (STIs).
The game, 'Man Up', sees players attempt to bounce between brightly coloured beds without either falling off the screen, or being knocked off by a 'love bug'. The higher they manage to bounce, the more points they receive; but points can only be banked through a visit to the floating clinic. At key stages in the game, the player receives messages containing important facts on sexual health, including how STIs are transmitted and guidance on how often to test for them.  STIs can be transmitted even if condoms are used, usually through oral sex. They often have no symptoms, as with gonorrhoea in the throat and rectum. Left untreated, even minor infections can lead to serious health complications.
The game will be placed on Facebook for 12 months and can be found by searching the site for 'Man Up'. As well as being shared by players, it will also be promoted via online advertising.