Travel – Hello Sailor: Gay Portsmouth & Isle of Wight!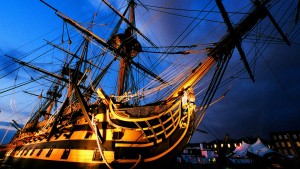 Ahoy me boys! Manly mariner Adrian Gillan drifts into dock for a naval binge in Portsmouth – plus the neighbouring Isle of Wight!
A pleasant 1½ hour journey from London – on South West Trains – wafts you down to Portsmouth: the place that gave Nelson his Victory and has given sailors a warm heartfelt passage ever since!
Portsmouth combines great shopping, eating and drinking with stunning attractions and centuries of oft naval history – all on the water's edge. Get your bearings, and a nice cup of coffee, 170 metres up, atop the lofty decks of the space-age yet still nautical Spinnaker Tower, England's tallest viewing platform, featuring Europe's largest glass floor. Shop or dine at the buzzing Gunwharf Quays; or stroll the genteel Southsea promenade.
During this year (2012), the bicentenary of his birth, visit the Charles Dickens Birthplace Museum, the beautifully-restored Regency house where Dickens entered the world 200 years ago – also featuring the very couch on which the great writer later died! And, of course, don't miss Portsmouth Historic Dockyard, spiritual home of the Royal Navy, and literal home to the world-famous HMS Victory. See the very plank where Nelson fell at the Battle of Trafalgar, plus this nationally iconic ship's original shot-ridden top-sail; before viewing artefacts from Henry VIII's favourite warship, Mary Rose, which sank before the king's very eyes in the harbour in 1545, and whose hull will be on show again in a new boat-shaped museum come late 2012!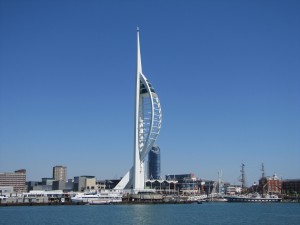 Scene
Let the costal breezes steer you to The Old Vic (104 St Paul's Road; T: 023 9229 7013;), the oldest gay bar barnacle in town, and logical first port to cast anchor, screw on your land legs and start your inland Portsmouth foray. It offers your usual traditional queer staple of drag, karaoke and quizzes plus the finest pub grub around!
Then totter over the road to the eternally trendy HB (1 Hampshire Terrace; T: 023 9229 7509;) where bright young things bob and bop, all ship-shape!
And if the old horn pipe's still strangely aloft, try Tropics Sauna (2 Market Way; T: 023 9229 6100;), whose steamy cabins are open 11am-10pm all-week-round.
Stay at the splendid Portsmouth Marriott Hotel (Southampton Road, Portsmouth; T: 023 9238 3151;), tucked away from the seaward hustle and bustle, on the edge of town, but a great base from which to explore – and escape to, after a busy day's sightseeing! Relax in the sauna and pool; then enjoy a fantastic, doubtless fish-led, dinner in the hotel's excellent AA-Rosetted Sealevel Restaurant, or a nightcap in the Sealevel Lounge, pre retiring to your stylish, spacious room!
BOX-OUT: ISLE OF WIGHT…
It makes perfect sense to split a trip to Portsmouth with its more rural off-shore haven, the Isle of Wight.
Previously part of Hampshire, the gently hilly Isle of Wight has been a county in its own right since 1974; is now the UK's most populous parliamentary constituency with resident population 130,000; and is England's largest island: a 23 mile by 13 mile diamond set between the Solent and the English Channel – on average 2-4 miles from the mainland, from which it separated post-Ice Age, around 7,000 years ago. Its 70 miles of oft fossil-brimming coastline includes the dramatic Needles on its westernmost point.
Reportedly captured by Vespasian, before he became Roman emperor, the island then became a Jutish kingdom until the 7th Century when it was brutally converted to Christianity – the last part of England to so-do – before swiftly reverting to paganism! It briefly became an independent kingdom in the 15th Century; imprisoned King Charles I in Carisbrooke Castle during the English Civil War; and was summer home to Queen Victoria, at Osborne House, near East Cowes – consequently becoming a fashionable Victorian holiday resort, attracting the likes of Tennyson and of Dickens, who wrote much of David Copperfield here. Marconi set up the world's first radio station on the island in 1897; and hovercraft design was also pioneered here – a technology that still helps links the isle with the mainland to this day.
Tourism remains the Isle of Wight's largest industry – with around 2.7 million annual visitors, 1.5 million staying overnight – and the island is perhaps best known internationally now for the newly-relaunched annual Isle of Wight Festival, and for the annual Cowes Week sailing regatta. An annual Walking Festival (5-20 May 2012) also attracts considerable interest.
Savour every moment of your thrilling Solent crossing on Wightlink which offers a regular car ferry service from Portsmouth or Lymington (journey time 40 minutes), or regular foot passenger catamarans from Portsmouth Harbour (journey time 20 minutes).
On a nice day, it feels almost Mediterranean at 30-acre Rosemary Vineyard, one of England's largest wine producers, where you can tour the winery; watch an explanatory "vine to wine" video; stroll through the vines; and even enjoy free tasting of the award-winning wines, liqueurs, juices and ciders! Then tuck into a delicious panini or ploughman's – or a richly-stacked full-on cream tea – at the friendly Vineleaf Coffee Shop, overlooking the estate!
The new award-winning Owl & Monkey Haven is sanctuary to a wide collection of rescued primates and birds of prey, with daily keeper talks and guided tours!
For something truly queer and quirky, don't miss The Garlic Farm, an "Island legend in the heart of the Downs", run by surely the world's-most-charming-garlic-farmer, Colin Boswell, whose "life-affirming crop" has been grown here since 1975. Enjoy one of several on-farm walks too – taking in thousands of years of history – "farm built upon farm" – all explained in the adjoining Heritage Centre. Fab café and shop too!
Located just a stone's throw from a beautiful sandy beach, beneath impressive cliffs, stay at the Shoreside Inn (39 Esplanade, Shanklin; T: 01983 861393;) in lovely Shanklin. Run by fab hosts Andy and Jo, this unique boutique hotel boasts six wonderfully-appointed sea-view suites – some with luxurious roll-top baths, others with private balconies. Ask when their next regular (Oct-Mar) hosted LGBT night, Paint It Pink!, is on – drawing a fun crowd of all ages, to booze and chat, or even enjoy top cabaret, generally before heading on to The Jolly Sailor and adjoining Bogey's Club in nearby Sandown. Savour breakfast, lunch or dinner – either inside, or out on the large sun-trap terrace!
South West Trains offers a regular service between London Waterloo and Portsmouth & Southsea and Portsmouth Harbour stations, with return prices starting from £36 standard class or £105 business class. The best fares can be found online when you buy your tickets in advance.