Girls with attitude by Ryan Houston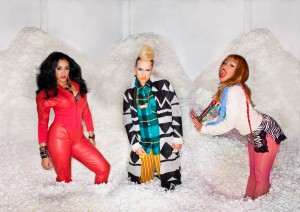 Utterly uninterested in following the formula, Stooshe, the London-based three-piece have not only disregarded the girl band code of conduct; they've ripped it into teeny tiny shreds. Having received positive reviews wherever they perform and with the release of their first studio album immanent, we wanted to see what made these feisty ladies tick.
What makes you ladies different?
The main difference with us is that there are no rules. A lot of girl bands that are around at the moment are really constructed by their managers, we're not. We are three girls from South London having a lot of fun and expressing ourselves through music. We say exactly what is on our minds and we hope to always keep that vibe around us.

For your first single, 'Love Me' you teamed up with Travie McCoy, how did it feel working with him and is there anyone else you'd like to work with in the future?
We absolutely loved working with Travie, we say he's like the BFG (Big Friendly Giant), such a great guy. He is so friendly and easy to talk to as well. We are open-minded about working with anyone and everyone, as long as they allow themselves to be free and can link in with our vibe then that's great. However, Jay-Z and Kanye West can call us anytime.
What is the best thing about being in the band for you?
It's a mix of so many things, we love being able to travel and see things that we wouldn't be able to do if we weren't involved in the industry. We also just love making music and having the chance to do it every day is something that is just brilliant.
How did it feel for you to go from everyday normal London lasses to chart topping singer's over-night?
 If we're totally honest, it hasn't sunk in yet. We are three happy girls that got very lucky and are living it up right now, and hoping that it lasts for a very long time.
What can fans of 'Stooshe' expect from the upcoming album and when will the album be released?
The album is out at the end of this month, it's a real electronic mix of everything. There's not a definitive theme, it's a lot like us.
Single:  Black Heart   Out: 11th June