Johan's Blog – Can't we have regular sex anymore?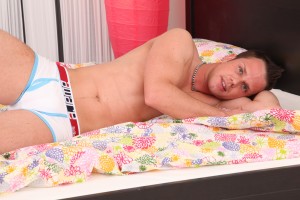 What's happened to good old-fashioned sex? You know, some shy kissing and cuddling, followed by a nice blowjob and a short shag. Why has it always got to be combined with stupid fetishes – piss, sniffing shoes, nipple-play, fisting, ball-torture, leather, jeans, military, humiliation, doctor etc, etc?
Last week a friend of mine told me about this guy who he took home for an enjoyable "after-club" fuck, who told him to keep his trainers on in bed. As a result, they did the dirty with each other naked – but whilst still wearing their old shoes! To be honest I think I'd probably have a nervous breakdown if somebody kept their dirty shoes on whilst lying on my hyper-expensive silk linen! I worry enough about staining it with my cum, never mind anything else!
When I check the local classifieds for parties I note it's all about whatever fetish turns people on; sports, drags, bears, leather, sex-parties, gangbangs, under-18s, over-40s, daddies and sons, naked … the list goes on and on!
But where are the regular parties where you have a beer, dance a bit and chat with other guys? Aren't we gays able to have fun anymore without having to have some theme or fetish? Isn't it enough for us to be a social minority because we're gay – without having to make it worse by being a minority within a minority?
The point is that these groups are very strict. Recently I tried to go to a gay party – only to learn that it had a "sportladz" theme. I had sneakers on and a tanktop, but unfortunately I was also wearing jeans and that meant I wasn't allowed to enter. Everything else was okay, so I was told that I either had to take my jeans off (and enter half-naked) or change into some jump-suit trousers (which I didn't have). As a result, there was no party for me at that venue that night!
A few weeks ago I remember a booking enquiry for our STAXUS on Tours shows (www.StaxusOnTour.com ) that I received from a venue in Belgium for a leather and bears event. Basically, they wanted to book me, Aslan Brutti and Jack Ryder – which was no problem, except that they demanded that we all had to have hair on our chest, bums and balls. Excuse me?! As I told them, I'm a porn model with shows and shootings every few days. In short, I need my intimate parts shaved, clean, fresh and in constant good use!
With regards to our movie productions, we do fulfill a lot of dreams and fantasies. At one point everything was about "skaterboys", and we've also done (and continue to do) a lot of things involving piss. At the moment, however, themes such as intergenerational sex and gangbangs are quite popular. As a result, the "Twinks Love Daddies" series and the new titles "British Sex Education" or "Sweat & Cum" (gangbang combined with sports fetish) have proved to be huge sellers on our online shop www.Homoactive.com .
Of course, I do have some personal preferences of my own. Whilst my boyfriend is much older than me I must confess that I really do have a thing for slim, sporty twinks in their early twenties, and I find guys in tight lycra shorts very sexy indeed. That said, I would personally never wear clothes like that other than when I'm riding my bike. So does that constitute a fetish? Or just something that I simply like and enjoy?
When I have chats with friends on Skype or ICQ we sometimes switch on the cameras and have a wanking session right there via the cam. This is simply because we're hot and horny right at that moment – but I don't select my online partner on the basis of his age, looks or what bike-shorts he's wearing. Actually, I quite like these short and uncomplicated sessions. They're fast, effective and commitment-free – exactly what you need when you're alone. And, best of all, they give me the freedom to have "sex" with other guys without ever cheating on my boyfriend!
The only thing is that I always have to make sure that I don't get cum on my screen or keyboard – something that's happened to me a couple of times when I haven't had tissues to hand. As a result, these days I always keep a box of tissues on my desk, which probably explains why my boyfriend recently asked me if I have a cold! Little does he know …
Maybe we'll meet on some online chat or cam-session soon!
Hugs
Johan