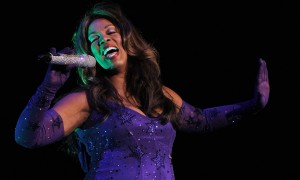 There have been many 'diva' disco singers – some worthy of the name, others mere pretenders. Donna Summer was the real deal.
Her first hit was I Feel Love and her voice, coupled with the electronic Giorgio Moroder production sent disco music into the realms of DISCO. Yes, that dance music that everyone was scoffing had suddenly found a sound like nothing else around at the time and it was accompanied by a voice that a whole dance-crazed public wanted more of.
Donna didn't disappoint; releasing hit after hit and keeping those dancefloors filled and becoming, perhaps surprisingly to her, an icon for the emerging gay movement. We all loved her and thought nothing would ever change but, later in her career, this deeply religious woman was reported as saying some very negative things about the AIDS crisis, which many of her adoring fans found insulting. She always claimed that she never said anything detrimental, and Pete Waterman, who produced several of her hits, said that she stopped giving interviews after that. However, the damage was done… but it hurt. Donna may have hurt for being mis-reported but her fans hurt because of the perceived betrayal and the fact that we still loved her and her music
The hits may have dried up but her legacy of gay anthemic songs that were a soundtrack to 80s gay culture lives on.
Donna Summer died on 17th May in Florida after a long battle with cancer.