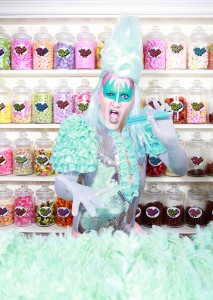 From a man who Gay Times called "ingenious and artistically brilliant…" comes a piece of pop magic.
Devised and hosted by flamboyant part-time pop-star and musical alchemist Boogaloo Stu, Pop Magic! is a theatre show combining cabaret, pop music and audience participation with cutting-edge recording technologies and social network platforms, to create a fresh new genre of work that is essentially "reality theatre".
In just over one hour, audience members are given the opportunity to collectively write, record and produce their very own pop single complete with an accompanying lip-synched video, additionally featuring an assembled cast of participants performing a flashmob dance routine. Along the way, Stu reveals the modest but glittering highs and barrel-scraping lows of his own pop career and how pop music shaped his future career and forged his own desire to perform. The finished video is the promptly edited and uploaded to the internet; within hours the audience can watch, download and share the results of the show across a multitude of social media platforms. The result is a hilarious and fast-paced D.I.Y. version of the X-Factor!
For tour dates : www.pop-magic.com