Tellin' Stories – Terry George – Rio Carnival
Don't Stop The Carnival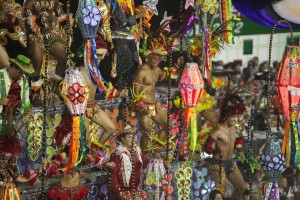 For regular readers of Bent, you may know of my annual pilgrimage to the Rio Carnival. I am drawn to this event for several reasons; the glamour, the colour, the sounds and the beautiful bodies all add to making this an unmissable spectacle. There is nothing new to report, the event is the event, but I'm always interested in meeting up with new people who, like me, have been to Prides, Mardi Gras and Carnivals across the entire globe but who continually say that this is not only the best but also a definite MUST SEE occasion to experience.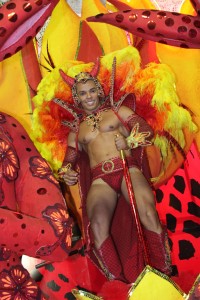 Away from the parade, people still ask me how I cope with the mass of happy dancers crowding the streets but I have to tell them, it doesn't take place in the streets. There is a massive stadium – the Sambadrome (the Samba being the local rhythm that everyone dances and sways to) and the parade takes place in that. Although there are many street parties and shows happening across the city, the Sambadrome is where you'll have the full colourful, pulsating experience. The floats (and not one of them proclaiming they are from Salford Van Hire) are festooned with shiny ribbons, huge crape paper designs and loaded with the most gorgeous looking people you are ever likely to see. Some readers may think this is the gayest of events, it is, but it is not a gay event. Although that perception could be my fault as I tend to concentrate my lens on all those gorgeous boys in their sequins and feathers. However, the families and locals take it all very seriously, albeit in a happy, friendly, extravagant way, as the many Samba schools taking part (and there are literally hundreds of people involved) aim to be crowned… not unlike Crufts… the best in show.
In the past, I have seen many famous people cheering on this stunning procession but this time I only clocked one… Ms Jennifer Lopez. I'm not sure if this was because the event itself is getting very expensive to attend. Packages for hotels and event tickets have risen dramatically in recent years, which unfortunately may well mean that those who might have planned a once-in-a-lifetime trip could now find it just too expensive. It is a shame. Meanwhile, I met up with la Lopez. To be honest, it was my friend actor Leon Lopez who I met up with and after the parade, we went off to see the sites.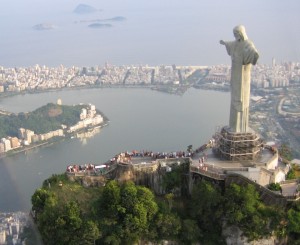 The statue of Christ the Redeemer is the main focal point of Rio. This sculptured colossus sits atop the Corcovado Mountain and attracts visitors by the thousands every day. Leon and I arrived at 10am to purchase our tickets only to find that the demand to get to the top was so huge, we wouldn't be there until 4pm. Through a bit of haggling and a little 'tip' we managed to exchange the tickets with a tour guide and at 11am went up on the little train/tram that travels to the top of the mountain. There is absolutely no doubt that the view is quite spectacular and the figure itself is quite awesome but for me at least, it was a bit of a disappointment. They had installed an escalator for when the Pope had last visited, as they didn't want him to have to take on the many steps leading up into it, and I thought it cheapened the mysticism of the place. Not that I'm particularly religious but it did make me think.
Once we'd taken our photos and done the touristy stuff we decided to head back but as the little train is the only way to return to the base, there was another long queue to get back down. I'm not one for standing in long lines and asked, as an actor, if Leon had ever had to play someone who was disabled. He said "No" and then queried my question "Why?" I grabbed a nearby wheelchair, which was there to help with old and infirm people who were finding the incline too much for them, and plonked myself down. Leon was laughing but said that we can't do that. I told him not to worry and to just push. He was very reticent but, as I insisted and set off without him, he followed and steered me through the crowds all gathering for their decent. The staff were helpful and opened barriers to let me through; I kept my head down as Leon pushed mouthing the words to anyone who was interested that I had a bad foot. I told him not to say anything unless we were challenged but he apologised at every opportunity to anyone who would listen or understood what he was telling them. Eventually we got to the front of the queue and I hobbled from the chair to find a seat. Everyone was being especially friendly and going out of their way to accommodate my injured foot. We arrived at the base of the mountain and as I got up to leave, I heard this American voice, who had noticed I wasn't limping anymore, shout "He's a fraud." Others began to join in the shouting but I said that it was a miracle, after being to meet Jesus I had been cured. No one seemed to be buying that excuse so Leon and I hot-footed it as quickly as we could to get a taxi back to town. I have to say that I owe this ingenious idea to Little Britain as I based my entire 'act' on Lou and Andy.