Scrubbing up nicely By Jasper Rees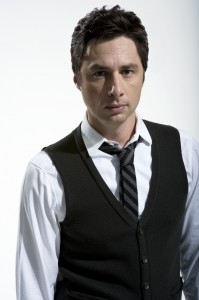 Zach Braff is overwhelmingly known as the star of Scrubs, the hugely popular American hospital comedy which came with a side order of surrealism. But fans of low-budget indie cinema will also know Braff for Garden State, which he wrote, directed and starred in alongside Natalie Portman.
After this promising debut in film, Braff retreated into silence. Pinioned for nine seasons in a contract which made him available for other work for only four months of the year 'scheduling things became difficult,' he explains. 'I tried to make another film and we were all set to go and then some amazing actor's schedule shifted and they couldn't do it.'
When Scrubs finished he was free to pursue other avenues, the first of which was a play. The idea came to him when he was looking for a summer house to rent for his father on Long Beach Island. 'You go down in the winter to pick one out. It was so desolate and spooky. I was so taken by the isolation and the loneliness and it was like a eureka moment: I want to set it in a beach house in the dead of winter.'
He wrote All New People over five months and last summer it opened Off Broadway. Now a UK production with a predominately British cast, Braff stars, as in Garden State, playing another lonely Jersey boy.
When the curtain goes up, Charlie is attempting to forget that it's his 35th birthday, only to be interrupted by a young female English letting agent with visa problems (Torchwood's Eve Myles), an over-educated fireman and an extremely expensive escort.
'Sad Jews in New Jersey is my speciality,' he advises. 'If there's a common thread it's navigating loneliness. Ultimately you are still going through this journey of life on your own. If both the leading characters have something in common it's that they are having trouble dealing with that. And it's about what rescues them. In the case of Garden State, it was true love. And in the case of this, it's the friendship and kindness of strangers.'
Braff is keen to advertise that there are not only structural surprises in All New People, but also laughs – lots of them. 'That's my favourite type of tone, where you can vacillate belly laughing and turn a corner and something quite serious in someone's life has happened.'
It's a thermatic tightrope walk that won't be entirely unfamiliar to Scrubs fans, with its trapeze-like swings between fantasy sequences and bedside trauma. 'I always felt Scrubs was like a comic strip. People think of the characters as their friends. They just want to check in with them for half an hour. And that's why the show worked so well.'
Following sell-out weeks in Manchester and Glasgow, All New People is now at The Duke of York's Theatre on St. Martin's Lane until 28 April. www.allnewpeople.co.uk