My First Time at a Gay Sauna – Manchester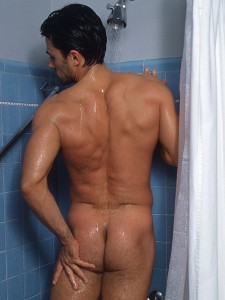 I was aged 24, I was on holiday in Florida, and I found myself at a gay sauna that I'd read about in one of the free gay mags I picked up in a bar there. I was actually in Fort Lauderdale and the entire place seemed gay to me with loads of hunks on the beach and in the clubs. Anyway, one night I decided to be brave and try this sauna as the image on the advert was pretty hot. The guy on reception was drop dead gorgeous, and he seemed to like my broad English accent. He came out from behind his desk, all smiles and wearing a brief pair of white shorts and a T-shirt with the sauna name written across the front, with STAFF, written across the back. He showed me around and the place seemed a lot bigger inside than I could have imagined. I changed at the lockers and wrapped the towel around my waist and we set off on the guided tour.  He was very touchy feely and I was in my element, loving every bit of attention this smiling hunk was giving me.  Having said that, there were many equally hunky guys wandering around and I knew I was in for a treat.
Eventually my guide had to return to reception and wished me luck as I was left on my own. I wasn't alone for long as I was soon being cruised and touched up by a curly-haired Hispanic looking guy. He guided me to the showers where we watched each other slowly soap ourselves and then, once towelled off, he found us a little cabin where we could have some privacy. He fucked me with slow deliberate and deep strokes that made me cling on to the thin mattress for dear life. I think I was squealing a bit but he appeared to like the noises I was making as he encouraged me with each thrust to 'sing' louder. In total that night, I sang for about ten people and I succeeded in shagging a couple myself. I managed to get a few minutes sleep in between all the sex and come the morning, as the guy on reception was clocking off and I was also leaving, he invited me out to grab some breakfast. I spent the rest of the day with my legs in the air and loving America and Americans for their friendliness, hospitality and the gorgeous sexy, horny, sun-tanned guys it produced. It was the best holiday I have ever had.
Lee – Manchester