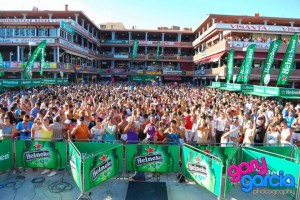 The International Gay Pride Maspalomas 2012 will be held from 7 – 13 May in Gran Canaria and promises to offer an attractive programme which includes the famous Saturday Parade, four nights with live shows, Mr Gay and Miss Lesbian Gran Canaria, Foam Party, Dance Sessions, Beach Parties and much more. Participants may also visit cultural events such as gay cinema and gay art exhibitions. Fun and freedom of expression are guaranteed during the  11th Festival in the Yumbo Shopping Centre and surroundings.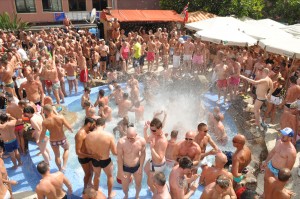 The opening ceremony of this year's Gay Pride Maspalomas will be on Monday, 7 May  at 21.00 hours by the mayor of Maspalomas and will kick off a week full of activities. The theme of that night, Eurovision, will be represented by live performances from Niamh Kavanagh, Katrina (formerly of the Waves), DQ and Sieneke.
The following day, Tuesday 8th , is Pink Day (and Night)  with street entertainment, Zumba, fire eaters, stilt walkers etc . In the evening visitors can enjoy the Gay Anthems Top 15 on huge screens on the main stage. On Wednesday 9th  May the new Mr Gay Gran Canaria will be announced during the popular Men`s pool party at Hotel Walkirias which will attract the maximum 1000 visitors. This is followed in the evening by the Interactive Screen showing on the main stage of the Rocky Horror Picture Show.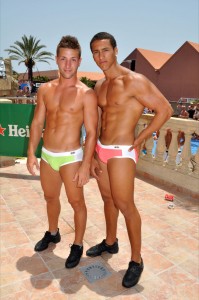 Thursday 10th, starts with BLUE, adult Comedy Drag Mayhem, followed by the second live show of the week,to be held during the night for the local HIV/AIDS charity and offers many international artists. The following day, Friday 11th , visitors can enjoy the open air T-Dance Party held at the Aqua Ocean Club, Meloneras, in a private ambience on the first beach line with sexy gogos, djs and delicious champagne and cocktails after which they can visit the popular Diva Drag Gala Show in the main Yumbo Square.
Thousand of people will visit the Saturday 12th  Parade, after which they will go down to the Yumbo Main Stage where a 5 hour dance session will continue the biggest open air disco of Gran Canaria! The live show show promises to be an explosive hot night in Maspalomas with artists like Basshunter, Jody Bernal, Eva la Diva, The Cheeky Girls, Kamaliya, Tina Cousins and many more!
The Closing Foam Party on Sunday 13th  will be the final day and is hosted by DJ Jean known from global No. 1 hit The Launch.