The Custard Boys – a story of sexual awakening, loyalty and betrayal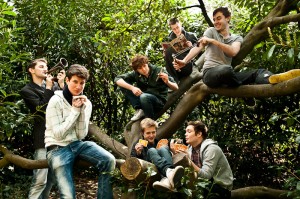 Glenn Chandler, the originator of the BAFTA winning television series Taggart (the longest running detective TV series in the world), directs his first play at The Tabard Theatre, his own adaptation of John Rae's novel The Custard Boys.
Written by Rae when he was House Master at Harrow in 1961, its depiction by a teacher at an all boys school of a gay relationship between 2 teenagers created quite a stir at a time when homosexual acts were still illegal.
It was also compared to Lord of the Flies thanks to its unsettling focus on what can happen when 'gang warfare' escalates, and childhood notions of  bravery and 'daring do' take on a hard unexpected reality.  It was later made into a film, Reach for Glory, in 1963.
The story features 5 teenage evacuees from London to the Norfolk countryside who are itching to join the grown up 'playground' of World War II.  Their chance to seize their moment of glory comes as the competition escalates between their gang and the local lads.  When an Austrian pacifist Jew is thrown into the mix and a secret love between 2 of the boys is realised, a heady cocktail of harsh reality is waiting to explode.
Tabard Theatre: 2 Bath Road, London W4 1LW        Dates: 10th April to 12th May
Box Office: 020 8995 6035