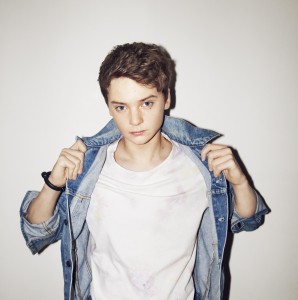 There's no stopping nineteen year-old pop wünderkind Conor Maynard. Hot on the heels of his sold-out London show, which according to the Daily Star, "was swamped by hysteria as the self-dubbed Mayniacs vied for his attention", he flew to Miami to record with Pharrell Williams who was blown away by his talent, inviting a string of high-profile musicians into the studio to meet and collaborate with him including Tyler the Creator and Ludacris.
With word in the US spreading fast about Conor's incredible musicianship and songwriting skills, instead of heading home he's just been whisked off to Los Angeles to record with Ne-Yo, who was the first artist to spot his talent back in 2010 when Conor's cover of his track 'Beautiful Monster' exploded over the internet.
In the UK Conor has just hit the number one spot on Shazam's pre-order chart and the video for his debut single has had more than 2 million views since it went live a fortnight ago. With playlist rotation across the nation's airwaves, almost 200,000 Facebook fans and nearly 100,000 Twitter followers, Conor is fast becoming the hottest male singer in the UK
 This is no manufactured pop act on a wave of carefully-created hype, but the real deal – a creative young artist whose talent and cheeky personality are capturing the ears of some of the world's most credible and exciting artists alongside the legions of 'Mayniacs' who are growing by the hour as he reaches out to them directly.
The single 'Can't Say No' is out on 16th April.  His much-anticipated debut album will be out this summer.