LADY GAGA – THE BORN THIS WAY BALL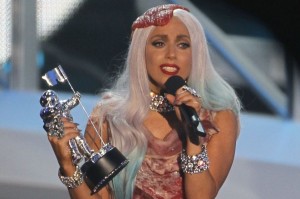 Five-time Grammy Award winner LADY GAGA is set to make her triumphant return to the stage this Spring with THE BORN THIS WAY BALL. In this brand new tour, Lady Gaga will perform her latest album Born This Way as well as music from both The Fame and The Fame Monster.
Supporting Lady Gaga for the European leg of The Born This Way Ball will be the newly reformed British rock band THE DARKNESS.
"The Haus of Gaga and I have worked for months conceiving a spectacular stage," said Lady Gaga. "The Born This Way Ball is an Electro-Metal Pop-Opera; the tale of the Beginning, the genesis of the Kingdom of Fame. How we were birthed and how we will die celebrating."
The Born This Way Ball will be Lady Gaga's first tour since the release of her album Born This Way, which has sold nearly 6 million copies worldwide since its release in May 2011.The album is the follow-up to back-to-back Grammy Award-winning albums 2009's The Fame Monster, and 2008's The Fame. Combined, The Fame and The Fame Monster have sold 15 million albums worldwide, while Lady Gaga's hit singles have combined sales of over 65 million worldwide.
Gaga was named Forbes' Most Powerful Woman in the World 2011 and was included in Time's annual "The 2010 Time 100" list of the most influential people in the world. With over 2.2 billion combined views of all her videos online, Lady Gaga is one of the biggest living people on Facebook with over 49 million 'likes' and is #1 on Twitter with over 22 million followers. Lady Gaga is the only artist in the digital era to top the 5 million sales mark with her first two hits.
Tickets for The Born This Way Ball go on-sale for London & Manchester at 9m on 13th April. Ticket prices will range from £50 – £80 for London and £60 – £80 for Manchester, and be available at www.ticketmaster.co.uk or www.LiveNation.co.uk
For complete tour and ticket information, visit: www.ladygaga.com and www.livenation.co.uk