Encountering Julian Briefly By Gordon Hopps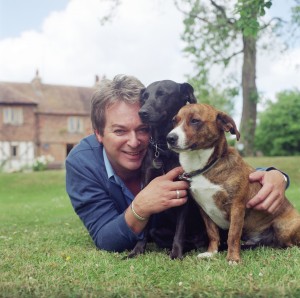 We love Julian. We love him for being Julian. We love the way he can insinuate and double entre and outrage… while not shouting at his audience or giving a lecture. We love him for the way his live shows include us all to be intimate (though don't get too close, one needs ones space) and invites us into the special camp world of this gentle spoken comedian. Of course he's not just a stand-up comic with a dog fetish… oh no… this man has got a great deal of talent and proves his writing abilities with the release of his fourth novel, Briefs Encountered. Set in the here and now, as actor Richard Stent buys Noel  Coward's old retreat from Julian (yes he even has himself in the book) and the 20s, when the golden era of Coward's talent shone most brightly and as he sought the strong manly arms of his American lover Jack. If only the walls of this famous romantic building could speak, what delicious and salacious gossip would they deliver?  Actually, this house has a way letting the owners know exactly what it's thinking.
In Briefs Encountered the character Richard buys the house from you because he is a Noel Coward fan… did you buy it for the same reason.
I was a fan of Noel's. What happened was Paul O'Grady, who is a friend of mine, suggested the place when I was thinking of somewhere rustic to live. I came down and looked at it and I bought it. It was as simple as that.
As in the book was there plenty of work to do on it?
Yes that's all true… a lot of the book is true… it was really as written, it needed a new roof, new guttering, new piping, new boiler, windows and all those things. I've been doing all that for the last five years.
Were you a fan of Noel Cowards before the house and the novel?
Yes, I grew up in Teddington where Noel Coward was born so yes, I've always loved his writing and his music and his attitude to life really. The glamour and frivolity of the 20s and 30s is very appealing.
Do you think that the era was very exciting to be gay because in the book Noel and his lover Jack seem to have little trouble with being gay even though it was still regarded as illegal. They seemed to feel they were 'special'.
I think that's exactly right. They thought they were special and in that time between the wars there was a particular kind of confidence and determination to enjoy themselves, which has gone now but I think that was epitomised by Noel.
Do you find writing easy or is it a chore to hit deadlines?
No, I think you must take no notice of deadlines. I quite like the pressure of knowing something is due in a few months but, with this book, the deadline had to wait. I think it's six months later than it was scheduled to be but I don't think you can rush these things.
Has country living changed you outlook on life?
I wouldn't go that far (laughs). I just enjoy rustic living; sunsets, trees and having hens and ducks around
So, you've done television, stage, panto and books, what's next for you… a musical?
Yes, I think I'd like to write a musical.
As well as having a writing talent do you have a musical bent?
No. I could write the book but not the music. I think I know my limitations. I know when I was in Taboo and Cabaret in the West End I got to liking the structure of musicals, how they were put together but I'm sure it's more difficult than I think it is. Whether or not I'd ever get round to it… I don't know.
Unfortunately, you  don't seem appear on TV that regularly these days. Is there something you are waiting for or have you some majestic plan to bring back Terry and Julian (a personal fave) ?
I don't want to do television at the moment. I have no interest in it. So… I'm not doing any for that reason. I enjoy writing and touring and doing panto for the money, so those are my three activities. I don't need the stress of television.
So there's no chance in seeing you in another Strictly Come Dancing type of show?
No.
You say you like touring is there one coming up?
Yes, at the end of the year for 45 dates.
Are you doing stadiums?
No, I do theatre tours.
Do you think that your act wouldn't work in a stadium.
I couldn't fill a stadium… no theatres are fine … no stadiums involved.
Getting back to your writing, this is your fourth novel any chance of them being made into feature films?
They are all available if anyone is interested in buying the film rights.
I just like the idea of your first novel  'A Young Man's Passage' being on the front of a movie complex.
Yes, so do I (laughs).
What do you feel about the current hot topic of Gay Marriage? You have a boyfriend of some years…
I'm all for it. I think it's all about playing with words. Most people who have had a Civil Partnership treat it as marriage so I suppose it's a pity it wasn't called marriage in the first place. It's like all the people's fear and ignorance about what would happen to society if gay people get married, well we've already been through all that and I don't think they need to worry as much as they do.
It's a shame the churches who are up in arms about it at the moment can't see that.
I think these days more people know what their human rights are and I think we are going to get gay marriage… so people will just have to get used to it.
www.julianclary.co.uk or follow him on Twitter: @Julian Clary
Book Review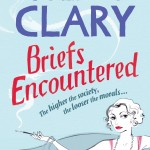 Briefs Encountered
By Julian Clary
Noel Coward is the toast of the twenties… a brilliant playwright, composer and entertainer whose witty songs and pithy lines don't quite tell the full story. Goldenhurst, his house in Kent, provides a place where he can be himself. More importantly, where he can be with his lover, Jack, without fear of arrest or judgement.
But their romantic idyll is ruined, first by the arrival of Noel's demanding relatives and then by a mysterious death.
Many years later, film star and Coward fan Richard Stent buys the house from its current owner, annoying camp comic and renowned homosexual Julian Clary. Goldenhurst is supposed to be a respite from all of Richard's worries but this is a house with a very rich and not always pleasant history.
Julian weaves a magical spell between what is now and what was then, back in the flamboyant 20s. Young love, old love, obsessive love, secret love and the body of a hunky young gardener, what more could a novel need?   Whether they are witty epithets, shrill retorts, classic observations or local accents… each character is instantly in the readers mind…  Noel would be proud.
Ebury Press