Bent Fiction – Massage by Les Lea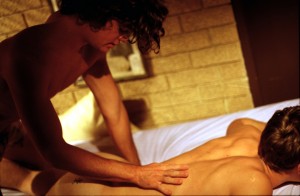 Mark was my regular masseur. He was proficient and accomplished in sports therapy and his deep tissue massage had been a boon to my own body recovering after several sporting events. I'm not a professional or anything but I do play for a Sunday pub football team – The Crown – and I am a regular in the squash courts or playing badminton. I like the run around and the camaraderie perhaps more than the competition, although I'm told I can be very competitive.
My knee was giving me a bit of a problem on this particular Monday morning, owing to a rather over-zealous tackle on a huge centre forward in the game the day before. I called Mark but was informed that he was away on a course for a couple of weeks, so they gave me the number of an alternative. I called but they couldn't fit me in for a couple of days and as I was very sore I decided I'd look online and see if I could find someone nearby who could maybe see me immediately. I searched and it wasn't difficult to find a couple of masseurs who lived in my area. A couple of calls later I found Keith who was available and only lived a 10-minute drive away.  He said he gave sports massages and was fully qualified but that he operated from home, which had all the facilities needed.
I arrived ten minutes early but was greeted by a smiling man about 10 years older than I was who looked in great shape.  I'm 25 and trim but his solid looking body immediately attracted me. He wore a white vest and white shiny adidas shorts and invited me in. After I'd filled out a form to let him know if I had any ailments or was allergic to any oils he might use, I was whisked into a small warm backroom that had a masseurs table as its central point.  There was a large pink towel covering it and a small pink towel placed on top. We had a brief chat about what I needed and he checked out my body to see if there were any other aches or pains lurking beneath my skin. His fingers felt terrific as he explored my body, pushing and squeezing various muscles and joints… and that was just the preliminaries.
I'm used to being naked in front of other guys, at the gym, in the changing room for footie etc so when he told me to strip I did just that. He smiled as I whipped of my underpants and lay face up on his table. He draped the small towel over my genitals and proceeded to oil up my legs, giving most attention to my aching and sore knee. His fingers soon found the spot that was giving me grief as the tentatively dug around my kneecap to see where the main damage might be. He found the spot and I jerked my knee automatically as a painful spasm jolted through my body. He apologised but said that if I could stand a brief bit of pain he thought he could fix the problem immediately. I was doubtful but he pressed his thumb against some piece of muscle or gristle and pain again shot up my leg and made me bolt violently upright. The little towel went flying and I was just about to give him a right mouthful when I suddenly realised I could move my knee in a way I couldn't before Keith had started his work.
I was in a bit of a state because his manipulations had been painful but he seemed to have fixed the problem, and besides that, I was standing naked next to him desperately trying to get my breathing back under control. He patted the table and told me to get back down and the rest of the massage would be nothing but a relaxing treat. With the help of his strong hands I clambered back and lay out as he suggested. He oiled me up and for the next 45 minutes he slowly and methodically massaged every bit of my anatomy  including my dick that, without anything to hide it away, throbbed and bounced around every time his slick fingers passed anywhere near my crotch. Even the slightest touch had me on the verge of orgasm and it was with some relief that Keith took the entire length in hand and helped me toward a terrific conclusion to my visit. I could see inside his bulging shorts that he was as hard as I was so I reached out and gave his dick a squeeze. And, as he performed a slow and oily masturbation on me, I rubbed his dick through the shiny material of his shorts.  I wasn't long in coming and produced several thick spurts all over my chest. Keith was also at the zone and he wasn't fast enough to get his dick out and came in a huge noisy gush into the front of his little shorts.
The look in his eye told me he'd like things to go further but I had to get back to work. However, I booked a two-hour session for the following lunchtime and I think I will be leaving Mark as my masseur for future sessions.