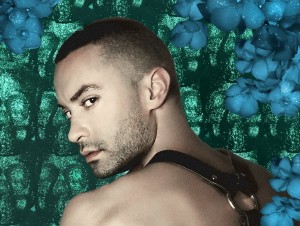 By Gordon Hopps
Angelo represents a new direction for pop music. Taking lyrical inspiration from ancient mythology and transforming it into irresistible modern pop-dance anthems, Angelo proves that he's not just a pretty face. His latest single 'Narcissus Drowned' represents the brains behind pop; articulate, attractive and undeniably addictive. Bent caught up with this sexy young superstar at his recent performance for London Fashion Week.
How important do you think the link is between fashion and music?
It's probably overly cliché to wax poetic on the synergy between music and fashion (and conversely fashion and music) because they are so intrinsically linked. Music is sort of an aural documentation of the times we live in, in as much as what we wear, (or fashion) can be a visual representation.  Imagine watching a movie or period film about a certain era without the inclusion of the music or fashions of the day? It wouldn't read as a depiction or a recreation – the audience would could never be whisked away without it. You can't ignore the impact an artist like Gaga has on bringing couture (and concept) to the masses. She's engaged an entire generation into the world and theory behind design…  For London Fashion Week I've worked with a brilliant designer Jeffrey Michael on creating an original composition for his debut collection. The song "Polyhymnia" (feat. MONKIKER) blended both the concept behind his collection – and my own personal mythologies together…to create a really lush aural landscape.  If music is the soundtrack of our lives (as they say) then fashion is the movie.
You seem just as at home in a suit as in shirt and jeans, do you have a preference?
In fairness (and I'm not being cheeky, just honest) – If I really am at home, I'm not wearing very much at all. A well made suit will sharpen out one's silhouette, but it can also be very confining.  I don't like feeling constricted, so I'm very picky about what I wear.  I guess I'm more of a jeans and shirt sort of guy, but that can get boring. I dress according to my mood.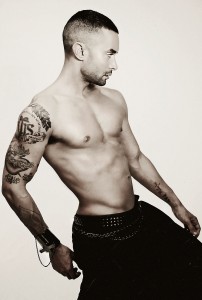 Is fashion all about dressing up… and can you be fashionable in anything if you look right?
Fashion can be as much or as little as you'd like it to be.  Most people treat it as an extension of their personality, but I think that's a trap. If you put too much emphasis on what you're wearing (or worse WHO you're wearing), you're fortifying a façade.  You become a cardboard advert with no personality or style of your own.  Individuality doesn't mean you have to go against the grain.  As long as you are comfortable with who you are – you can wear anything. Confidence is the best fashion sense, the rest is Tom Ford.
Born in San Diego California, Angelo first cut his teeth performing at a very young age. A third generation musician, he quickly abandoned instruments to explore his natural talent as a vocalist. Trained by his mother (a world class Contralto) and in the shadow of his grandfather (who worked with jazz greats Nat King Cole, The Dorsey Brothers and Johnny Mercer) Angelo carries a legacy into his own unique pop sound.
Tell us a bit about your music.
Pop music with lyrics that will either make you think, forget or make you want to go drinking, heavily. That's what I hope at least.  I like to inject a little bit of poetry into what I do – but ultimately it's electro-pop music with a little ass shaking soul.  This album is as personal as a diary, so it's a little scary putting that out there – but with all the remixes and the natural evolution of my sound – things are definitely moving into a more serious Dance genre.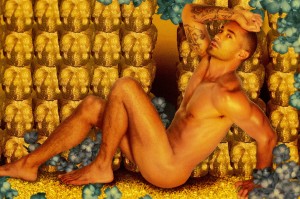 Since moving to New York where do you hang out and who with?
I live in the East Village and I love my neighbourhood, but I do venture out.  My favourite haunt is Eastern Bloc which is a bar conveniently located down the street from my apt.  My friend Brian has willingly dragged me up to Hells Kitchen…recently, not sure if that's really my scene. My sister is also in the music biz, so she and I go to a lot of concerts. I try and keep my claws sharp when it comes to other performers. .
Your single 'Narcissus' is out at the moment in a collaboration with Marco Ovando… any future plans for similar couplings?
Narcissus Drowned is the title track from the album, it also features remixes from some amazing DJs and remix artists (Buzz Junkies, Buffetlibre) – the lyric in the song is all about duality…and living in NYC presents a bit of a double life. There is the life you live with your friends, at the gym, picking up your dry cleaning – and then there is the flash, the nightlife, the Pop-life.  When I thought about how to capture that essence I tapped Marco to see if he would want to collaborate. Marco is sort of the king of NYC nightlife photography, but there is something very raw but editorial in his style. We decided London would make the best canvas for the Narcissus Drowned video, we're bringing a little bit of NYC to the London Nightlife.  I think both Marco and I have decided that there will be a narrative follow up to the "Narcissus Drowned" video, so – no promises, but if it happens it will be epic. I will also be working with another photographer on another video from the album this spring, we're just in the initial storyboarding but I'm excited about that as well.
Away from music what do you like to do?
Travel.  If I could live my life travelling (which I sort of do) I would. Reading. I love writing, not just music. Tattoos.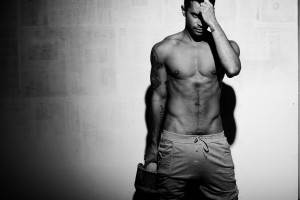 What is your next project?
I have already started recording my next project.  After the album comes out, there will be a slaughtering of new dance tracks releasing, one right after the other…  it's going to be a hot summer.
Photos:  Eric Scot
Cover Photo: Marko Kalfa
Styling: Christine Struble-Nirmaier
Ribcage Leather Harness Custom