Beauty and the beach
By JD Van Zyl
Hedonistic party nights, sun-drenched beaches and the most gay-friendly destination in the Aegean by a mile. You really needn't do a lot of digging to see why gay guys still flock to Mykonos in their droves.
Mykonos may have spent most of its life eclipsed by its holier neighbour (in Ancient Greek history the island was dismissed as little more than Delos' brothel), but in modern-day Greece there are no guesses who the crowds favour. Ironically, to a large extent exactly because of its love of worldly pleasures.
During the sunny months of June to September, throngs of gay guys make their way to the Greek island's shores along with ferryloads of straight visitors. And although this means crammed beaches, high prices and packs of tourists jostling the main town's maze of cobbled alleyways, you'll be hard-pressed not to fall under the spell of this Aegean gem.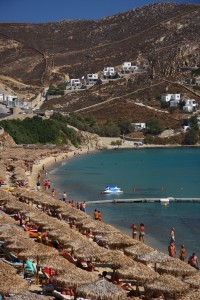 While the sun's up, Mykonos is all about the beach. A number of brilliantly remote beaches dot the northern coast, but most gay visitors' compass will point keenly to those in the south instead. This is where you'll find Paradise Beach and, more importantly, Super Paradise Beach, one of the most famous gay stretches of sand in the world. Recently nearby Elia Beach, with its gin-clear waters and honey-coloured sand, has come to rival Super Paradise's popularity among the gay crowd, however.
As on Super Paradise, Elia's unofficial rainbow section is towards the right of the beach, near the rocks (where you can also enjoy some steamy action if you please). Parched lips are catered for by a beach service under the palm-frond umbrellas as well as a string of chic beach restaurants, and it's very easy to get to it – simply catch the bus or caïque (little boat) in Mykonos Town. Don't fancy limiting yourself with a schedule? Then rent a quad bike or scooter for the day, it's by far the best option for exploring the island.

Ancient Greece was no stranger to sexual indulgence and hedonistic lifestyles. And although modern-day Mykonos isn't the bordello it once was, the island's nightlife is still legendary. No newcomer to the gay scene, the island's first gay club opened some 37 years ago. Pierro's recently moved to a venue next door to its original address, but it remains as buzzing as ever.
There is no defined gay quarter as such on Mykonos, but a healthy smattering of rainbow-flying bars are scattered near the water's edge in the old harbour. These include Porta, especially popular for starting the night; Jackie O', one of Mykonos' newer additions and known for its drag shows; and Babylon, next door to Jackie O' and offering the same effervescent atmosphere. The sheer number of gay visitors to Mykonos is staggering, and during the summer months these bars get absolutely packed with guys spilling out into the surrounding alleyways.
Keen on something a little racier? Then head to nearby Ramrod with its hunky dancers. If the go-go boys' gyrating leaves you a little hot under the collar you can always blow off steam at the island's most famous church, Panagia Paraportiani on the waterfront – a regular witness to rather steamy after-dark cruising.
For some proper pounding beats you'll have to head out of Mykonos Town. If you're after serious clubbing, Cavo Paradiso near Paradise Beach still reigns supreme. Not only does it boast jaw-dropping ocean views, but its turntables are regularly spun by the Who's Who of the DJ world, from David Guetta to Tiësto.
Similar to many Latin countries, the Mykonian nightlife doesn't get rocking until well after midnight. In fact, Cavo Paradiso doesn't even open its doors until 2am and the club's mixed crowd only really lets rip shortly before the first rays pierce the Aegean horizon. As far as living it up with reckless abandon is concerned, the original playground of the Greek gods remains hard to trump.
1. Sunset drinks at Elysium – This gay hotel's poolside bar is the place to enjoy a cool Cosmo while admiring the setting sun.
2. Shopping it up in Mykonos Town – Home to a wealth of first class shops, Matogianni Street is the heart of Mykonos chic.
3. Sunning yourself at Elia Beach – A must-visit beach, regardless whether you prefer tanning in the buff or not.
4. Dinner at Mamacas – A trendy all-white setting and fresh take on traditional Greek favourites has made Mamacas a firm favourite.
5. Saddling up a scooter – Without a doubt the most fun way to explore the Aegean gem, especially its remote corners.
6. Visit Delos – The mythical birthplace of Apollo, this UNESCO World Heritage site is steeped in ancient ruins (which includes two enormous stone penises).
7. Going big at XLsior – Hardcore clubbers should plan their Mykonos trip around this massive week-long gay party romp.
8. Pay your respects at Pierro's – The foundation of Mykonos' gay scene, Pierro's remains an institution nearly four decades on.
9. Chilling in Little Venice – Sip on a chilled Chardonnay at The Piano Bar in the island's most scenic neighbourhood.
10. Milling around – Originally used to grind flour, the 16 windmills dotting the island remain Mykonos' quintessential trademark, and definitely warrant a visit.