WEEKEND
On a Friday night after hanging out with his straight mates, Russell heads out to a nightclub, alone and on the pull. Just before closing time, he picks up Glen and so begins a weekend – in bars and in bedrooms, getting drunk and taking drugs, telling stories and having sex – that will resonate throughout their lives. A one-night stand that becomes something more – an unconventional love story between two young men trying to make sense of the world they live in.
Andrew Haigh –  Director
How did you come to cast Tom Cullen and Chris New?
We met with loads of people, individually and in pairs always looking for some kind of spark that would translate on the screen. Tom and Chris had that from their first pairing. The rehearsal period was very short, only a week or so and we spent most of that time just getting comfortable with each other, honing the script and improvising around it. Apart from the obvious things such as good acting, I also think that chemistry on screen comes from what happens off screen, from the tone of a shoot. If the right atmosphere exists on set you hope when the camera is turned on, a certain mood will persist.
You've worked on films that don't have gay themes and created some that do – what keeps you interested in gay characters and the issues they face?
If you watch most gay themed films you would assume that the only story worth telling was about 'coming out' or repressed love but I wasn't interested in that. I wanted to tell a story about how people deal with their sexuality after they come out. I wanted to tell a story about how people deal with their experience, especially how people respond to the weight of being different, of  not fitting in  I was interested in whether a person chooses to let their sexuality define them, and if so, then how. I also think that as society has progressed, new concerns and struggles have emerged and I wanted to explore a little of that too. Of course I think it's worth saying that you don't need to be gay to be struggling with issues of authenticity and self-definition, and of course at the heart of Weekend is a story of two people falling for each other. This, obviously, has very little to do with being gay.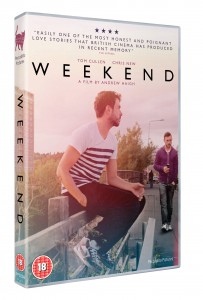 Out: 19th March – Peccadillo Pictures
For a chance to win a copy of this DVD, just answer this question:
Complete the title of this  Calvin Harris hit – "Ready for the _________"?