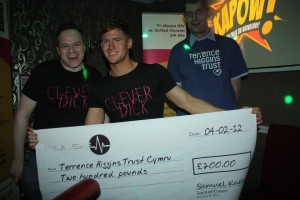 Samuel Kneen, or, Mr Gay UK as he is now known, has kept his promise to donate part of his £2000 cash prize to his favourite charity. The Terrence Higgins Trust received a personal cheque from Sam and a further £100 was donated at a special fundraising event at The Pulse  in Cardiff, the club where he won his heat in the competition.
Sam says, "I had loads of fun on the night. Myself and a few THT staff, including Wayne Curley, did the rounds through Pulse, asking people to kindly make a small donation to the charity. We helped raise another £100 for the charity, I was so proud!  We had a few drinks and it was a laugh, everyone got really involved. I'd like to thank Pulse and Mr Gay UK for all their continued support, and I aspire to do the gay community proud!"
The Terrence Higgins Trust (http://www.tht.org.uk/) was one of the first charities to be set up in response to the HIV epidemic and has been at the forefront of the fight against HIV, and improving the nation's sexual health, ever since.
Joshua Hall, Services Manager at Terrence Higgins Trust Cymru, said: "We are very grateful for Samuel's donation. Not only does it help raise funds for people living with HIV locally, it will also help raise awareness around the wider issues of HIV. One of Terrence Higgins Trust Cymru's aims is to raise the awareness among the general public that HIV still exists but that it can be prevented."
Plans are already underway for this year's Mr Gay UK contest so, if you are interested in holding a heat, or sponsoring the best known gay pageant in the UK, please get in touch with the team.
Mr Gay UK  www.mrgayuk.co.uk
Adam Gerrard       adam.gerrard@mrgayuk.co.uk / 08712 246 516